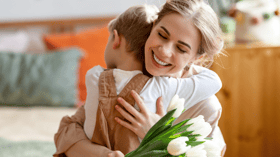 In a world of challenges and uncertainties, stories of transformation, healing, and resilience shine like beacons of hope. We invite you to embark on a journey through a tapestry of gratitude and success. At Victor we've had the privilege of witnessing and being part of incredible journeys of personal growth, strength, and renewal. Our goal is to provide mental health and support services that empower individuals and families to overcome obstacles and flourish. From individuals conquering anxiety to parents finding solace and strength in Wraparound services, each testimonial resonates with the power of the human spirit and the unwavering support of our dedicated team. These stories are not just narratives; they are testaments to the remarkable capacity of individuals to transform their lives with the right guidance and care.
Join us as we celebrate these inspiring success stories, where individuals and families have discovered hope, resilience, and a brighter future. The following excerpts from heartfelt testimonials are a testament to the profound impact of our services and the incredible strength of those who have journeyed with us.
From John's Transformative Journey:
"I am writing to express my appreciation for the mental health services that I have received at your agency. I have struggled with anxiety, and through the support and guidance provided by your team, I have made significant progress towards my mental health goals."
Read More about John's Transformative Journey
From Sam's story of Building Hope from the Ground Up:
"From where I started to where I am now has been quite the journey of ups and downs. But with the support and understanding I felt from the interactions I've had here, I realized I want to live.

After my first month here, of finally taking steps to become myself, I realized I was tired of grieving in advance and anticipating pain. After months of self-reflection and self-care I felt for the first time in my life, love for myself.

I cannot possibly explain how grateful I am for every interaction I was able to have here. Through the support of the people here I was able to be me."
Read More about Sam's story of Building Hope from the Ground Up
From Transition Age Youth Success Story:
"Before, I was afraid, very sensitive and ready to attack because of my negative experiences. Even though it's hard sometimes to this day, I know my perspective has changed and I'm not the person I

used to be. Life is a lot easier not having to fight my old fears I used to have. I'm thankful for my Mom, who has always showed affection and compassion, and a higher power for guiding me spiritually, and my friends and family who are willing to help me when I'm in need and correct my negative thinking pattern.

I've accomplished so much and I want to thank TAY for their courage and support. I want to thank Shane, my first therapist, Ruby, Stephanie, Adeola and Cheyenne for always giving me 110% support. I love you guys and thanks for the hard work you have put into me. Stephanie, thanks for being right to the point with me and being able to realize what's possible."
Read More about this Transition Age Youth Success Story
From A Mother's Appreciation for Wraparound Services:
"Wrap taught me that it's okay to be a mess, that's what they are there for, to help us learn who we are, get stronger, and realize that this isn't the end, only a step towards a better life… My Parent Partner helped me use steps and to take it one day at a time so I didn't feel overwhelmed. My sons now have a chore list and even though everyday isn't perfect, they are learning responsibility and it helps me feel like I am accomplishing what I need to as a parent… I would suggest Wraparound services for any family who needs support in raising their child. This isn't an easy job and we adults need support in life to be successful, just like we support our children. Don't give up if you're struggling, there is still light at the end of the tunnel."
Read More about a Mother's Appreciation for Wraparound Services
From A 13-Year-Old Boys's Journey: Overcoming Anxiety to Attend School:
"At the start of services Colin expressed intense anxiety and fear when approaching large groups on campus at school. He was not making any effort to attend school and hadn't attended a day of school since the start of the school year.

TBS coaches began working with and coaching Colin's caregiver on how to identify motivating factors for him and following through with appropriate consequences when he refuses to go school or has maladaptive behavior. ERMHS facilitators and a Behavioral Coach began working with Colin and his school to help him actually make it to class. An ERMHS facilitator and a Behavioral Specialist identified trusted school staff members that Colin can approach when he arrives at school and when/if he begins to experience anxiety.

Colin is experiencing progress and success – he recently managed to tolerate his anxiety long enough to leave his house and make it to school in the morning. While Colin has more to deal with than your average 13-year-old boy, the services and support he's receiving from Victor Support Services Lake Elsinore has put him on a path to healing and given him hope to take small steps – even if it means just getting out of bed and getting to school."
Read More about a 13-Year-Old Boys's Journey: Overcoming Anxiety to Attend School
From Joseph Olvera's Client Success Story:
"I saw him [the client] taking control of his life and develop the skills necessary to interact with others. This culminated in an incident out in public in which the client got into a dispute with other players of his campaign style board game at one of the local comic shops. In the past the client would have melted down at home afterward and hurled nasty insults at his parents because he was mad at the players from the store. Instead he wrote an eloquent response on an online message board to the players from the game who also frequented the online postings then he went to bed. As he would often say about the figurines he would design "their abilities have been upgraded.

We ended services on a high note as the client was attending school at a rate acceptable to the school and was moving from Special Day Classes to more mainstream classes with mostly A's. The client had the ability to calm himself down by walking around the home after he would get into arguments with his parents and stated that he had "learned enough for now".
Read More about Joseph Olvera's Client Success Story
From Happily, Ever After: A Wraparound Success Story:
"It makes my heart so happy to know that there are successes out there and that all these kids don't fall through the cracks. That there are good people out there too, that do this for the right reasons."
Read More about Happily, Ever After: A Wraparound Success Story
From a Client Transformation Story:
"The client's mother is beyond thrilled with her daughter's progress. During the session to terminate services she said there had been a complete change in her daughter and that she was so proud. She also stated, 'Not only did you help her, but you also helped the rest of the family, we are a family again.' We live in a world full of challenges that can be overwhelming and confusing. If I think about my darkest moments in life and everyone else around me, I know how powerful it can be to have someone supporting and encouraging you to be your best and most authentic self. I am passionate about personal transformation, self-discovery, exploration, and healing. I want to be the one to walk alongside people in their journey and instill hope to help them get the most out of life."
Read More about this Client Transformation Story
As we draw this collection of testimonials to a close, we're reminded that every success story represents a journey of courage, determination, and the human spirit's indomitable will to thrive. At Victor we remain committed to our mission to be a catalyst for sustained improvement in the lives of those we touch.
We extend our deepest gratitude to all those who have shared their stories with us, and to our dedicated team of professionals who have made these transformations possible. Together, we'll continue helping others soar.