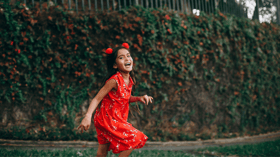 People can find breakthrough, healing, and learn to live good lives. Children can find new beginnings in stable homes with people who love them. We've seen it and we are excited to share one example with you through our latest Victor Story of Hope.
Entering Wraparound
Kelly was referred to Victor Wraparound services at 5 years old. She was the oldest of four siblings and had taken on the role of their primary caregiver due to neglect from their parents. This is known as parentification which can cause children to have a hard time building trust and regulating their anger and emotions.
She had also developed unhealthy physical boundaries which manifested in being overly affectionate. Kelly would hug anyone she met including adults. This behavior put her at high-risk for kidnapping and abuse. In addition, she was experiencing hallucinations and wetting the bed.
Kelly's Wraparound team began working with her on developing boundaries, learning to feel safe, and how to be a kid. Kelly was a very bright child but struggled with how to express herself. She compensated for this by deflecting and avoiding hard topics, according to her Wraparound coordinator.
"She is a smart little thing. Anything that you had to talk about with her that wasn't happy, fun stuff, she was good at deflecting. She'd go off on another tangent and I'd have to draw her back in with, "Hold on, we've got to talk about this stuff."
Because of her lack of trust in adults, she struggled with releasing the responsibility of caring for her siblings the most. She would try to hold them accountable for their behavior and parent them even though she was only their oldest sister and five years old.
Entering Foster Care
Soon after entering foster care, the four siblings gained a baby sister, totaling their number to five. Their newborn sister was placed in a separate foster home while the other four siblings stayed together.
During their second foster care placement, Kelly's younger sister Linda demonstrated aggressive behaviors and instigated physical altercations with Kelly that were more than normal sibling disagreements. Because of this behavior Linda also entered Wraparound services.
The children were receiving services, working through their behaviors and were overall at a positive foster care placement. However, when the foster family needed to move out of state for a job opportunity, the children couldn't move with them and needed a new placement.
Reuniting the Family
A social worker reached out to the foster family taking care of the youngest sibling and asked if they'd be willing to foster the other four children. The family agreed to take on the other children wanting to keep the siblings united!
Unfortunately, there were some challenges with their new placement. Linda began storing her food in her cheeks until they puffed out. Both Kelly and Linda were still exhibiting aggressive behaviors with one another and wetting the bed.
Eventually the conflict and escalating behaviors in the household became too much and they needed a new placement. Victor and the foster agency wanted to keep the siblings together as best they could, which meant finding a placement for all five children, now ages seven and under. Though this was no small task a home was found!
Finding a Home for 5 Children
Their new foster fathers, Sean and Ryan, took all five children into their beautiful home. Kelly's Wraparound coordinator witnessed these kids transform as they became a complete unit of five in a home where they were all loved. Kelly's Wraparound coordinator had this to say about their primary caretaker, Sean.
"He took these kids on and embraced them. He let them be kids. They argued, but he gave them boundaries and parameters. He let them be individuals."
The kids had been in 4 foster homes up to this point, but they could sense this one was different. From the very beginning they expressed to their Wraparound teams that they loved it and never wanted to leave. Their new foster fathers had a positive attitude and demonstrated a commitment to making it work and give these children a stable home.
Changing Behaviors
There was a great partnership between the Wraparound team and the kids' foster fathers. The children quickly began thriving in their new environment. The bed wetting stopped as soon as they got to their new home. After not too long, Kelly stopped wanting to parent her siblings and started embracing being a kid and having a healthy sense of her own needs. Linda stopped being so aggressive with her sister.
Sean would sometimes express that he didn't understand why the siblings were in Wraparound.
"Yes, Linda stores her food in her cheeks. We're working on that. It's not like she's not eating or not getting nutrition. She's like my little chipmunk, so what? if I need to take her to a doctor to get her checked, I'm able to do that."
In addition to being understanding and an engaged parent, Sean made a point to protect the children by making sure their boundaries were being enforced due to their past traumas. He would inform his family how they should appropriately be acting around his foster children so they wouldn't be triggered or fall back into old patterns. Of course, he wanted his family to also care and come to love the children, but that came with respecting important physical boundaries.
Sean and Ryan were clearly dedicated to the children's healing and working through their traumas. They adjusted what they could to make the siblings more comfortable so they would feel safe while maintaining a structured home important to childhood development. When it came time to terminate services, Victor asked Sean if he was sure he was ready. Sean expressed full confidence and eagerness to start the next chapter with these kids.
Finding a Forever Home for 5 Children
Sean had been a foster father for some time. He wanted to give kids a chance and show them a good life is possible. He and Ryan had hopes to adopt and experienced disappointment when opportunities hadn't worked out. However, when these five children entered their lives, they knew they were the ones they'd been waiting for. Now Sean and Ryan are finally getting the family they've always wanted, and the children will have a safe home with parents who love them.

All five children are celebrated in their new home. Things as small as losing a tooth or completing preschool are met with balloons and a party. Holidays, like Easter, are celebrated with decorations and egg hunts. On their first days of school, they got to wear outfits they picked out for themselves and had their hair styled the way they wanted - they even had a balloon arch! It's a dream come true.
Working to Make a Difference
Kelly's Victor Wraparound coordinator got to briefly meet Kelly after COVID restrictions had been lifted. While Kelly was in office receiving services, her coordinator peeked her head in and said hello. Kelly's eyes got big as she said, "You are real. You're the lady on the computer!"
Kelly, Linda, and their siblings are so young they may not remember their Victor Wraparound team when they're older. However, the services they received will stick with them for a lifetime. They'll be less at-risk for repeating generational traumas and have their best possible chance at a good life.
"It makes my heart so happy to know that there are successes out there and that all these kids don't fall through the cracks. That there are good people out there too, that do this for the right reasons."
Working in the mental and behavioral health field can be very difficult at times. At the beginning of this story a 5-year-old girl entered services due to traumatic neglect. By the story's end she is 7 years old, has graduated services, and lives with her 4 siblings in a safe home with parents who love them unconditionally. This is all thanks to the work of people in mental and behavioral health and foster care.
If you're someone who feels called to help kids find healing and give them the tools to live a healthy life, we invite you to look at our job openings below. Positions range from clinical, to administrative and IT, so there is a chance you can find something that suits your skills. We also have paid internship opportunities for those in social work and behavioral and mental health.