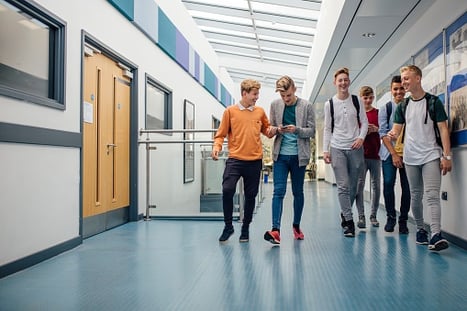 Some may describe a 13-year-old boy as awkward. Moody. Hormonal. Their newly discovered desire to be independent means they'd rather hang out with their friends than be in any near proximity to their parental units. They've discovered girls instead of the latest video game hacks and consider Snapchat to be an actual conversation with a human being. Possibly their biggest worries are puberty and pimples, braces and bad hair, big feet and even bigger egos.
School is a necessary evil, a land of fellow teenage peers who want to be "individuals" by fitting in. Most days, their biggest concern is they forgot to study for a test, lost last week's football game to their rivals, didn't get the seat in class next to their crush, or the cafeteria ran out of pizza before they got to the front of the line. Sure, being a 13-year-old boy is hard. Being a 13-year-old boy with anxiety is even harder. And for someone like 13-year-old Colin*, going to school at all is a real, daily struggle.
Colin began experiencing anxiety related to school attendance when he was in third grade. He would refuse to go to school, complaining of stomach aches, but they would usually subside, and he would behave appropriately once he in was in class. He wasn't being stubborn. He wasn't sick. He shared with his mother that he'd been sexually abused. She believed his anxiety symptoms and refusal to go to school were related to trauma from the abuse.
In fourth grade, Colin's wounds seemed to be healing as he began attending school regularly. Like any average fourth grader he was learning math, science, reading and social studies. He seemed to be on a consistent path of attendance, but in fifth grade, Colin once again refused to attend school. Colin wasn't suddenly disinterested, and he wasn't just being difficult. It was in fifth grade that his biological father committed suicide.
In July 2017, Colin began Therapeutic Behavior Services (TBS) a program that provides critical, short-term support and is designed to provide one-on-one therapeutic aid to children and youth. TBS provides structure and support that will assist children in living successfully in the least restrictive setting possible.
In September 2017, Colin began Educationally Related Mental Health Services (ERMHS), which encompasses a wide variety of treatments and programs that serve the mental health community. Programs under the ERMHS umbrella include:
Assessment & Evaluation
Individual, Family & Group Counseling
Rehabilitative Services
Parent Training and Family Support
Crisis Intervention and Stabilization
Medication Support and Monitoring; and
Wraparound Intensive Services
At the start of services Colin expressed intense anxiety and fear when approaching large groups on campus at school. He was not making any effort to attend school and hadn't attended a day of school since the start of the school year.
TBS coaches began working with and coaching Colin's caregiver on how to identify motivating factors for him and following through with appropriate consequences when he refuses to go school or has maladaptive behavior. ERMHS facilitators and a Behavioral Coach began working with Colin and his school to help him actually make it to class. An ERMHS facilitator and a Behavioral Specialist identified trusted school staff members that Colin can approach when he arrives at school and when/if he begins to experience anxiety.
Colin is experiencing progress and success – he recently managed to tolerate his anxiety long enough to leave his house and make it to school in the morning. While Colin has more to deal with than your average 13-year-old boy, the services and support he's receiving from Victor Support Services Lake Elsinore has put him on a path to healing and given him hope to take small steps – even if it means just getting out of bed and getting to school.
*The name has been changed for privacy purposes