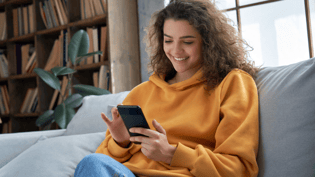 We work with teens and young adults every day here at Victor. Many of our employees have their own children as well, so we are no stranger to the role social media is playing in their lives.
We try to communicate with kids about their online presence. It's good to set time limits and certain boundaries, but there's no denying that social media will be a part of their lives and follow them into adulthood.
With the COVID-19 pandemic and boom of TikTok, the social world has grown larger yet more connected at the same time. Video based platforms like YouTube, SnapChat, and TikTok allow teens to hop on trends, recreate, and share easier than ever. Couple that with algorithms becoming smarter and teens can find communities online that they relate to easier than ever.
There is also an outpouring of educational content. We've needed to get information out quickly and reach as many people as possible during the pandemic. Because of that platforms have evolved and social media has become the primary source of information and advertisements.
Because of these changes to the social media landscape, the data of how our teens' mental health is effected is also changing. In an article published by Psychology Today by Danielle Ramo, Ph.D., they explore how Social Media is actually helping teens cope with depression.
Posted by: Psychology Today
Teens say social media makes them feel better when they're stressed.
Key points:
A national survey of young adults revealed an array of positive effects of social media use during the pandemic and other crises of the past year.
Social media has enabled young adults to express themselves creatively, find reliable health information, and feel less alone by facilitating contact with family and friends.
Many young adults have relied on social media to find peers experiencing the same concerns and crises as themselves.
1) 53% of teens and young adults have used social media to stay connected to friends and family during the pandemic.
Direct messaging (DM) apps like What's App and SnapChat offer much more connection and social opportunity for young people than passively scrolling and browsing, because they are the closest thing to mirroring in-person social interactions. In the past year, you've likely FaceTimed, played an online game, or sent a meme to a friend or family member. How did it make you feel? Chances are it felt good. Consistent with a 2015 PEW report, this new report shows the majority of teens feel social media made them feel more connected to information about both their friends' lives and their feelings.
2) 21% of teens and young adults say social media helps them feel less alone.
Over half of the young people surveyed were remote learning at the time — a well-documented factor playing into the decline in teenage mental health. While children and adults of all ages are experiencing loneliness during this time, the effects of being isolated from peers are especially significant for teens who are biologically and psychologically driven to be with peers at this stage in life...
3) 85% of teens and young people have used social media to keep up with current events.
Source: 5 in 10 (53%) teens and young adults have used social media to stay connected to friends and family during the pandemic.
Young people have been stereotyped during the pandemic as having a "this won't happen to me" mindset, yet one in seven surveyed indicated that they or a family member got COVID-19 and have used social media to learn how to protect themselves and others. As headlines abour civil unrest and political divide made their way into social feeds, so did plenty of misinformation that was hard for even adults to discern. But teens are digital natives and very resourceful...
4) 1 in 5 teens and young adults say social media allows them to express themselves creatively.
Social media platforms have become even more important to some young people for support, community, and self-expression over the past two years — especially those experiencing depression. Even before the pandemic, PEW reported that one in four teens were using social media as a creative outlet for sharing art, dance, song, and the written word across multiple platforms — written, audio, visual. Without their usual busy days of school and extracurricular, many teens have more time on their hands to try new things. Adolescence is about forming a sense of identity, after all. In Forbes, Jack Rodgers calls TikTok "an infinite feed of endorphin-inducing content that triggers a strong sense of unity and belonging within us." Like or not, TikTok has given many teens a creative outlet and a reason to smile.
5) 40% of teens and young adults have looked for "health peers" online – people with similar health concerns to their own.
The proportion of young people with depression who say social media is "very" important for getting support or advice when they need it has more than doubled in the past two years. Often, teens seek others in the digital world who "get it." For some LGBTQ+ teens, social media can be a lifeline—especially if they are rejected by their parents or have yet to come out. Researchers have even found that engaging more passively with social media (i.e., watching LGBTQ+ YouTube video) allows LGBTQ+ young people to learn about identity-specific issues, become inspired in their coming out process, and increase identity confidence.
[To read the full article click here]
What Does This Mean?
Teens are still vulnerable to the negative side effects that can come with too much social media use, like body image issues and anxiety. The best option is to promote a healthy balance of being online and being in the "real world."
Demanding that they completely give up social media and internet activity is unrealistic. Just start with talking to them, ask them questions and let them tell you what they think about what they see online. How does it make them feel? Are they able to go hang out with friends or do activities for social interaction? See if you can get them to step back and get a more objective look at things.
Social media was designed for connection and expression. There are many positive communities on the various platforms where teens can meet others with similar interests like art, nature, nutrition and more. Human connection is healthy and we want to foster positive relationships as much as possible. So in this season we recommend taking it a day at a time and moving towards healthy balance.
In our mission to be a catalyst for sustained improvement in the lives of those we touch, we try to walk the walk, not just talk the talk. By keeping an eye on our core values, we can better help our clients and become better ourselves.
Interested in a career where you can help others and grow in the process? Click below.