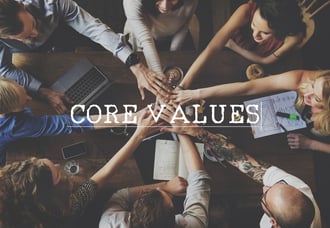 At Victor, we talk a lot about values, our guiding principles which help us achieve our mission "to be a catalyst for sustained improvement in the lives of those we touch." There is a common misconception that things like mission statements and core values are marketing jargon, without real substance. From our point of view this could not be further from the truth.
Our core values guide our organization on a daily basis. From the decisions we make, to how we interact with clients and staff members, every small decision and every large one is guided by our organizations values. There are some important benefits to having a common set of core values both externally and inside an organization. So what are our core values and what do they mean?
T.E.A.M.
Teamwork - We believe in working together and supporting one another. Our best work is done as a team, improving client outcomes as well as workplace culture.
Excellence - We expect a lot from ourselves and our team, because we know we are capable of great things. Our clients need us at our best to help them overcome significant obstacles. We support our employees so they can do their best work.
Adaptability - Things change, and we must change with them. The same methods won't always work for every situation and every case, we have to learn, grow and adapt as a team to achieve our goals and help clients.
Mission Driven - All of our work, as well as our interactions with clients and each other, should be in service of our mission to be a catalyst for sustained improvement in the lives of those we touch. The work we do is hard and it's with this mission in mind that we persevere.
The External Role of Our Core Values
On the outside, from the point of view of our clients, state agencies and other organizations, our core values can help tell the story of what Victor is all about. They represent a consistent message to people that says these values are guiding principles for us. When we apply our core values to working with clients and external organizations we do better and more consistent work. Ultimately, when we wear our core values on our sleeve, the external result is more successful clients and better relationships with other organizations and government agencies. But, how about our internal relationships and the day to day operations of staff? What affect do our core values have on them?
The Internal Role of Our Core Values
Living our core values inside our organization is what creates a company culture of support and growth. We encourage personal and professional development of our staff, and that kind of growth requires adherence to our core values. When we consider a new employee we make sure that their attitudes and ideas align with our core values. This ensures that as our company grows we keep a consistent value of mutual respect between staff members. Our leadership also walks the walk, and lives the core values from the top down. This results in a culture of appreciation and teamwork where everyone collaborates to do meaningful work.
At Victor, we are all about relationships. Relationships are the focus at every level of the organization, with the families we serve, our employees, and the counties who seek our assistance. It is through these relationships that we achieve the greatest results in fulfilling our mission.
Do our values resonate with you? Consider a career at Victor.