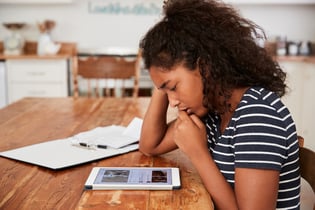 We work with teens and young adults every day here at Victor. Many of our employees have their own children as well, so we are no stranger to the role that social media is playing in their lives. We try to communicate with kids about their online presence. It's good to set time limits and certain boundaries, but there's no denying that social media will be a part of their lives and follow them into adulthood.
There are the obvious issues like cyberbullying and inappropriate content, but research shows there are more subtle issues that can develop in teens and young adults as a result of overuse and reliance on social media. Increased feelings of depression, isolation and anxiety can result from an unhealthy relationship with social media. These issues have become more prevalent in youth, but also affect adults when we form bad habits regarding our social media and online habits. In an article published by Psychology Today they explore this issue a little deeper. They ask some important questions and present some interesting findings, such as "College students have surpassed the elderly as the loneliest segment of the population."

Posted by: Psychology Today
A lonely college student collects as many friends as he can on Instagram in hopes that they will increase the number of likes he gets when he posts. As empty as it may be, he feels a sense of validation each time someone acknowledges him online. A teenage girl spends hours on an anonymous chat site, hoping to find a sympathetic ear.
The recent deaths of Kate Spade and Anthony Bourdain have thrown a spotlight on the rising suicide rate in this country: according to the Center for Disease Control it is up 30 percent since 1999, and may be even higher for teens. Loneliness and depression are risk factors for depression. Consuming social media can make these feelings worse, and teens spend lots of time on social media. The vast majority (92 percent) report going online every day, 89 percent use at least one social media platform a day, and 24 percent of those surveyed say they are online "almost constantly."
While correlation does not mean causation, there is no doubt that the technology and social media have changed the way our children relate to each other and feel about themselves. What is lost when a boy and girl, seated a few feet from each other text instead of talk? How about when girls on a school bus text jaunts about another girl, not behind her back but right next her? Is hanging out in one basement together gaming the same as playing a video game with each kid in a separate basement?
The Paradox of the Internet: The internet offers a 24/7 opportunity to connect to others, but at the expense of real human contact. Or as the writer, Jonathon Safran Foer, author of Extremely Loud, Incredibly Close wrote, "Technology celebrates connectedness, but encourages retreat… Each step 'forward' has made it easier, just a little, to avoid the emotional work of being present, to convey information rather than humanity."
Consider these findings:
- College students have surpassed the elderly as the loneliest segment of the population.
- 68 percent of Gen Z adults (ages 18 to 22) reported feeling shy and said the people around them neither knew them well nor were like them.
What Can We Do?
To help teens deal with mental health issues that have been exacerbated by social media we have to help them by putting things into perspective. Demanding that they completely give up social media and internet activity is unrealistic. Just start with talking to them, ask them questions and let them tell you what they think about what they see online. How does it make them feel? See if you can get them to step back and get a more objective look at things. The curated lives of Instagram influencers do not represent anyone's reality. Try unplugging and getting a little digital detox time to work on your interpersonal relationships. This may do you as much good as it does for the teens you are trying to help.
In our mission to be a catalyst for sustained improvement in the lives of those we touch, we try to walk the walk, not just talk the talk. By keeping an eye on our core values, we can better help our clients and become better ourselves.
Interested in a career where you can help others and grow in the process? Click below.