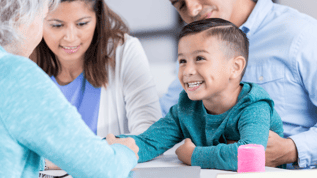 We believe holistic health services are the most effective way to treat and provide long term solutions for mental and behavioral issues. Which is why we incorporate community and connection into treatment. Wraparound Services are a prime example of these values and strategy in action.
When someone is struggling with their own mental and behavioral health, or that of a loved one, it can be easy to think there is just one specific symptom that needs to be solved. But it's often more complex than that. Without a deeper look at their lifestyle, family dynamics, and school or work life, we won't be able to find the root cause of what's going on and therefore may not provide long term resolution and self-sufficiency.
While triage is sometimes necessary, Victor isn't in the business of short-term solutions. We want our clients to have long term, stable success and to thrive in their lives. When you look at Victor's programs, you can clearly see our holistic and strengths-based approach woven throughout. Wraparound is one specific service, but the core principles within it are shared with other services.
Cameron: A Great Example of the Power of Wraparound
One of Victor's touching success stories involves a young man named Cameron. He was separated from his siblings and began to live with his grandmother. However, his trauma caused him to have behavioral issues and he ran away from school often. Later on, his grandmother was able to adopt his siblings, but at the time was unable to also care for Cameron and meet his needs so he was placed in Foster Care. Here is an excerpt from his story:
Family Vision started working again with the family, this time not only supporting Cameron with his development but also supporting his grandmother with her reunification case plan. The team supported them through a change in school placement and the transition to another foster home. Cameron worked hard with his Family Support Counselor and Intensive Family Services clinician to learn verbal and physical boundaries, gain coping and anger management skills, and begin to process his trauma. Cameron shifted from acting out to speaking out. He started to experience success in school, built confidence and a better self-image.
Cameron's grandmother also made progress. She took advantage of Empowered Parenting, support groups and self-care events to learn new strategies and become a more effective parent for Cameron. His grandmother was open and receptive to coaching from her Family Partner and increased her organizational skills and follow through with tasks. As Cameron and his grandmother worked individually on their common goal to be reunited, Child Protective Services rewarded their progress by granting longer, more frequent visits so they could rebuild their relationship. Cameron started overnight weekend visits to experience and adjust to the new structure established in his grandmother's home. This process was not without its challenges, but the team remained steadfast and persistent, meeting several times per week to support the family with coming back together. [You can read Cameron's full story here]
Cameron, his grandmother, and his siblings were officially reunited. They embraced the process so well that they exited the system early!
What are Wraparound Services?
Wraparound is a strengths-based approach which supports youth and their families in identifying their own strengths. It's a method that engages the individual (typically a child or youth) and their family, so they can grow and make progress towards living fulfilling lives.
We provide a continuum of community and school-based services to provide support to families so they can grow and thrive. We also have children-specific services to make sure they are in loving and supportive homes and doing well academically, emotionally, and behaviorally. Wraparound Services bring these two types of programs together in a powerful way, both supporting the children and parents or guardians through treatment and services.
By partnering with behavioral health, child welfare, and juvenile justice departments across California, we can provide support in every area a child may need. We can improve their personal safety, their home life, and overall wellbeing. We also recognize that each case is unique and customize our treatment plans to meet their specific needs.
Where did the Idea of Wraparound Services Originate?
Wraparound Services began in the 70's as a new form of individualized, comprehensive and community-based care that was a new way of thinking compared to the standard care of a single provider or group limited by location or organization.
This new model allowed for more creativity and flexibility in assessing and treating a client's needs. It also created more support for children and families while they were still together, to prevent issues that could potentially lead to the child being removed from their home and placed into foster care or a group treatment home. In 1997, the State of California established its requirements for Wraparound Services. Specifically, Legislation SB 163 requires Wraparound Services to:
Be family centered, individualized, culturally relevant, and strength based
Be team and community based
Identify and rely on a family's natural & community supports
Develop a child and family team plan to identify service needs
Place child in the least restrictive environment
Track and evaluate outcomes
Reinvest cost saving into child welfare programs
You can learn more about the State of California Department of Children Services in this video.
Holistic Care Beyond the Individual
We've seen families reunited and children grow to thrive through Wraparound Services. It's a service that has an exponentially positive impact on children, families, and communities. For children and teens, we work with school site professionals, counselors, as well as provide support for the parents.
When it comes to support for parents, whether single, co-parenting, or married- we provide them with counseling and education to help them through personal struggles so they can grow into secure and capable parents. One of our clients' parent had this to say about her experience:
"My Parent Partner helped me use steps and to take it one day at a time, so I didn't feel overwhelmed. My sons now have a chore list and even though everyday isn't perfect, they are learning responsibility and it helps me feel like I am accomplishing what I need to as a parent.
I would suggest Wraparound Services for any family who needs support in raising their child. This isn't an easy job and we adults need support in life to be successful, just like we support our children. Don't give up if you're struggling, there is still light at the end of the tunnel.
Wrap taught me that it's okay to be a mess, that's what they are there for, to help us learn who we are, get stronger, and realize that this isn't the end, only a step towards a better life."
Our Commitment to Our Clients
There are many providers of mental and behavioral health services in the State of California. We can't speak for them, but we can tell you that for Victor, Helping Others Soar is our primary goal. We will wrap around a person, not just a client, and lift them, their family, and communities up through individualized, holistic, and specialized care.
Our amazing clinicians and employees get creative and are committed to their work. You can take a look at our Stories of Hope for more examples of success or peruse our website to see our other service offerings. Click the link below to explore career opportunities with us, and if something looks like a good fit, we encourage you to apply.