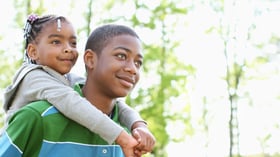 At Victor, we're committed to helping families reach their goals. With Victor's Family Vision Wraparound Program, every family undergoes a unique process tailored to their specific circumstances, aiming to inspire and encourage them to attain their individual and collective goals.
Today, we're thrilled to share a remarkable success story that demonstrates the power of Victor's Wraparound Programs. AJ's story is a testament to the transformative impact we can have on the lives of families and children.
Family Vision Success Story
AJ's journey began at a critical time in his life. At just 8 years old, he was teetering on the brink of losing placement in foster care after experiencing multiple disruptive changes in his living situation. The prospect of AJ being sent to a group home loomed ominously. His Child and Adolescent Needs and Strengths (CAN'S) assessment revealed numerous challenges, and his behaviors were causing concerns for his foster family and biological parents alike.
Victor's dedicated team, driven by a mission to empower families, embarked on a journey with AJ, his foster parents, and his biological family. The goal was clear: to provide the support and guidance necessary to keep AJ within a nurturing family environment.
One pivotal moment was the involvement of AJ's biological family in the Wraparound Program. This crucial step marked the beginning of AJ's progress. Over the course of a few months, AJ's situation improved significantly. His female siblings, who were in separate foster homes, were also at risk of losing placement. Encouraged by AJ's progress, our team successfully advocated for one of AJ's siblings to be assigned to our Wraparound program.
The collaborative efforts of the Wraparound team resulted in overnight visits for AJ and his siblings at their father's home, fostering stronger family bonds. Then, AJ's mother was able to enter a recovery home where she could participate in overnight visits with her children. This step forward allowed her to reunite with all three of her children, with the support of Wraparound and the recovery home providing essential guidance.
Over the next year, the family made remarkable progress, navigating the occasional challenge with resilience. With both parents fully engaged, they began to function as a cohesive unit. AJ successfully graduated from Wraparound, achieving three important goals, while his siblings also graduated with two goals accomplished.
In late 2019, the family reached a significant milestone by moving into a home that AJ's mother was immensely proud of, having saved money from her job to secure it. This was a monumental achievement for her, as she had never held a job before. The family, once involved with Child Protective Services (CPS), was now living together under one roof, with CPS closing their case in late 2019.
At Victor, we take pride in supporting families like AJ's on their journey toward self-sufficiency and stability. Our Wraparound Services don't do the work for families; instead, we provide the support they need to empower themselves. AJ's story is a testament to the dedication of our team and the remarkable resilience of families in the face of adversity.
About Victor's Wraparound Programs
At Victor, we firmly believe in the strength-based approach of our Wraparound Services. We understand that every individual and family have unique strengths, and our mission is to help them identify and harness these strengths to achieve their dreams. Wraparound is an intensive, holistic method that specializes in engaging with individuals facing complex needs, particularly children, youth, and their families. Our goal is to enable them to thrive within their homes and communities while pursuing their hopes and aspirations.
We proudly partner with behavioral health, child welfare, and juvenile justice departments across California, implementing our Wraparound model. Our focus is clear: enhancing youth safety, permanency, and overall well-being through our Wraparound programs for vulnerable youth and their families. We recognize that no two families are alike, which is why Wraparound believes in tailoring services to meet each family's individual and unique needs.
Stories like AJ's remind us why we do what we do – to be a catalyst for sustained improvement in the lives of those we touch. We remain committed to our values, working tirelessly to provide excellent support that truly changes lives.
*Names have been changed to respect the privacy of the client