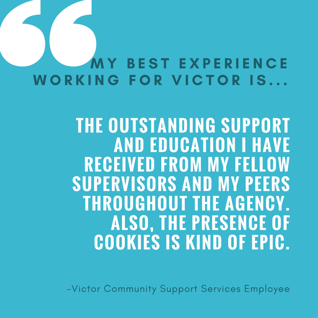 At a recent staff meeting in Victorville, CA, Executive Director, Carl Mascarella asked Victor Community Support Services employees questions about what they liked about working for Victor. Here's what they had to say.


The Best Part of My Job
"I enjoy team meetings with my coworkers because of the great sense of humor. I also love Golden Dinner activities with our clients. I have been making great memories here at Victor."
"Making events with our kiddos. Being able to see them put in effort and smiling. Knowing we made them happy with something as simple as hot dogs."
"I have the most caring and supportive supervisors. And they're always very approachable and understanding!"
"I have found here at Victor the job environment I have always wanted, and the coworkers & supervisors who have become an extended family. Our site culture lets us expand, mentor and learn from each other. This makes me want to come to work each day and pour all of that into my work so that down the line it helps my coworkers touch the lives of those we serve."
"I love supporting the agency via IT!"
"The outstanding support and education I have received from my fellow supervisors and my peers throughout the agency. Also the presence of cookies is kind of epic."


My Favorite Experience
"First day of working with VCSS Campus! And working as a big team."
"The best experience I have had with Victor is receiving a values award."
"Getting hired and working with wonderful people."
"My first day of work and my first presentation. I love it here because we work as a family, supporting each other."
"My favorite moment at Victor was receiving my promotion to supervisor."
"I've enjoyed the ability to travel with Victor and participate in strategic priorities and training out of the area. It allows me to grow as a professional."


Why I Love My Job at Victor

"My experience with working for Victor has been the best and keeps getting better because you see how your site and the company care for you as an employee and as a person, and it's genuine, which makes a big difference in your job and helps me to continue to do what I love and love what I do."
"I truly love coming to work every day."
"I have found a second family here at Victor that supports my growth, keeps me laughing, & keeps me sane."
"Victor has helped me grow professionally and personally."
"In all my jobs I have had it's the best team of coworkers and supervisors I could ever ask for. I hope I can grow and learn more and more from them and stay with Victor for years to come."
"The values & mission! I clearly see those values and mission in all of us and our site. You see it and you feel it from the Regional Director to ED to supervisors to coworkers and I have seen it and how it even gets to our clients. We all here have bought into it and use it and share it. This all would not be possible if we hadn't seen and felt it from everyone in the Chico office. So I think that the fireside chats are a small part of this, it helps us to feel that we are a valued and cared for employee on all levels. All these things make he have a daily experience of enjoying my work and wanting to be present at work every day."

Thank You!
At Victor we take pride in building a culture of support and growth for both our employees and our clients. We are fortunate to have so many amazing people working for us. Thank you to all of our employees who are doing the work and living our values every day.

Since our founding over 47 years ago, Victor has maintained an unwavering commitment to transforming lives by going above and beyond in the delivery of excellent services to the children, families and adults who seek our assistance. This dedication to our purpose is mirrored in the responsibility we have to our staff to assist them in their growth and development as professionals. We work diligently to create a culture which is positive, supportive, and focused on continuous learning.