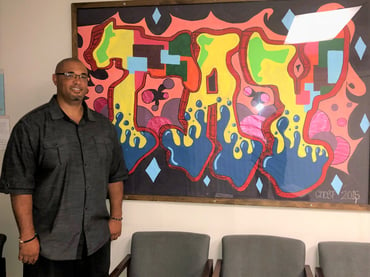 Mark Callahan knows a thing or two about working at Victor. He started there in 2001 and after 17 years, the only thing that has worn out is his office chair. Mark is still inspired and going strong.
Mark didn't start his career in mental health and didn't even have a background in it when he started at Victor. Mark was a teacher, and he has always had a strong connection with youth. Mark's best friend was working at Victor and encouraged him to apply. Even though he didn't have any mental health credentials, Victor saw something in Mark that aligned with their values.
"Am I supposed to know all this stuff?"
In the first staff meeting Mark was overwhelmed by the amount of information and acronyms thrown around. He thought, "Am I supposed to know all this stuff?" He would have felt lost if not for his best friend acting as his rock, to help guide him through the process. Now that Mark is a 17 year Victor veteran, he tries to be a rock for other people to depend on. He teaches people to learn to trust themselves, to trust in the skills they have developed, but that it's always alright to ask for help.
Mark is currently a therapist in the Transitional Aged Youth (TAY) program. About 9 years ago his supervisor came to him and said a program for the 16 - 26 age range was going to be starting up, and they knew that Mark loved working with teenagers and young adults. Mark says that's part of the culture at Victor, they listen. They get to know everyone's strengths and support them by placing them in programs that allow them to put those strengths to work. Mark has been in that position ever since. In the same building and the same chair, well until recently anyway. He had to finally get a new chair since the old one wore out. You know you have been in a job for a long time when you start outlasting the furniture.


Victor Culture
At Victor, culture starts at the top. As Mark puts it "The management walks the walk." They don't ask the staff to do anything they themselves wouldn't do. They exemplify the mission. Mark finds that to be true across all Victor programs and sites. He can walk into any Victor site, and even if he doesn't know anyone, he knows the culture. They have the same expectations and the same commitment to support and growth for clients and staff.
Something that Mark really appreciates about Victor is the diversity of the organization from the top down. It's inspiring to see a diverse management staff. Victor takes the time to grow their employees into potential management positions. Mark says that "From day one, I was encouraged to grow in this field, and promote up." More than an opportunity, at Victor, growth is an expectation. Mark says, you have to be willing to go through the process and Victor will support you all the way.
A unique experience Mark has had at Victor is that even though he is not a supervisor, he has attended management meetings. Not many companies will do that. The staff gets the opportunity to see how management processes things and makes decisions.
Why Mark Stays With Victor
People always ask Mark what has kept him at Victor for so long. He says it's because they share a common mission; growth. Mark's passion is for "taking young people who are lost and helping them see the way. Giving them the same opportunity that my management has given me; an opportunity to grow in a supportive environment. I love it." When we asked Mark what he would say to someone looking for a job and considering Victor, his response was, "If you're just looking for a job, don't work here. If you're looking for a career, then this is the right place. These people are passionate about what they do, that's the culture."