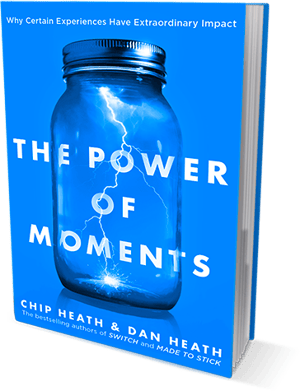 The foundation of our mission here at Victor is built in relationship, but being in a pandemic with limited to no social contact with our clients for the past 5 months can make you feel like those relationships are harder to maintain.
By (almost literally) taking a chapter out of the book "The Power of Moments" by Chip and Dan Heath, we can learn how to leverage the impact moments can make, even digitally.
The Heath Brothers found that there were four elements that can make up a defining moment, whether big or small. We've described them each below and given you some ideas on how to implement them into your work.
1. Elevation
Elevation: Defining moments rise above the everyday. They tap into not just a fleeting moment of pleasure, but a deeper, memorable experience of delight. To construct elevated moments, we need to think about how to elevate sensory pleasures to make them extraordinary.

The Heaths use the example of the Popsicle Hotline to demonstrate elevation. At a particular mid-level hotel in L.A., you can pick up a red phone and order free popsicles. They are delivered poolside on a silver tray, of course.
With permission and using your best judgement, use the principle of "elevation" in your work as a chance to send some tangible and inexpensive good will can be a great way to share a moment or make a routine moment more special.
Whether this is with a client or a colleague, think of a small gift that can bring some joy or a new level of intention. Small and shippable items like stickers, bubbles, cards, or maybe someone's favorite candy are all great options.
2. Insight
Insight: 'Rewire our understanding of ourselves or the world'. In our daily lives, every now and then a break-through happens, something becomes clear to us. For example, this is the person I want to marry or this is a job I don't want. In the workplace, if you can provide insights to clients then they will love you. "Often what people want from us is a level of insight rather than comfort or pleasure."
Relationships and helping others are at the center of what we do and who we are at Victor. Whether it is for yourself or a client, you can provide a moment of insight.
Typically, these moments happen by chance, described as "aha" moments. However, with some slight coaching and the proper questions, you can create a path to certain defining moments of insight for another.
3. Pride
Pride: Defining moments capture us at our best—moments of achievement, moments of courage. When you discover the architecture of pride, you can plan a series of milestone moments that build on each other and are so much more effective as a motivational tool than a simple imperative like "sell more." For example, instead of creating a recognition program like "Employee of the Month" or an annual banquet, consider spontaneous recognition of individuals that is targeted at specific behaviors. Effective recognition makes employees feel noticed for what they have done.
At Victor, we believe you don't need a big ceremony or fancy title to tell someone they are doing well! It only takes a moment to intentionally call out a coworker or client for hitting a milestone.
By taking the time to give the compliment or affirmation, you make someone feel noticed and appreciated, and that is one of the best ways to make a person feel they have purpose and are included, which are powerful community builders.
4. Connection
Connection: Defining moments are social: weddings, graduations, baptisms, vacations, work triumphs, bar and bat mitzvahs, speeches, dinner tables, sporting events. Sharing your moment with others strengthens the experience.

The Heaths discuss one experiment where two people walk into a lab as strangers and walk out, 45 minutes later, as close friends. Through a series of questions designed to create connections, people can really feel connected in a short period of time. This might make you rethink your typical interview questions or how you relate to your audience during a business presentation, for instance.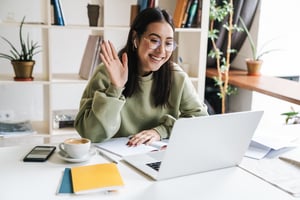 It is incredible how powerful the right question can be in a given circumstance, even in a professional setting! Now imagine if you used that power in your next zoom meeting or client interaction. It can completely change the way someone is seen in an interaction and breathe new life into a meeting.
If you need help on coming up with questions, there are books, blogs, and even cards designed to help you get a conversation going.
It's About Intention
While having limited contact has put a strain on relationships, with a little intention you can considerably lighten the load. It's amazing how just a little bit of extra thought can not only maintain a relationship but actually deepen it.
Try one of the these elements over the next month and see what the outcome is. You just might be surprised.