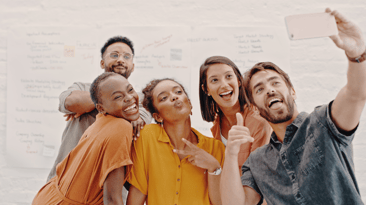 TEAM is at the heart of our organization. We've put much thought into these 4 values that makeup the acronym: Teamwork, Excellence, Adaptability, and Mission Driven. TEAM represents the values we use to drive successful results, build healthy and sustainable relationships, and create a dynamic and positive work environment.
TEAM has helped Victor grow over the last 65 years to become a massive supportive services network across California. In the fields of social work, counseling, addiction recovery, and community support services we organizations need to have a set of core values to unite us in the work we do. Recent studies and reflections have led to a shift in practices. We've learned that when people are united with the same values and mission, they have better work performance, higher satisfaction at their jobs, and personal resiliency.
Victor Values TEAM
'T' stands for Teamwork
Obviously, the acronym reflecting all our values is TEAM, but this value holds true as an overarching theme and a mode of operation. Even in medical school, teamwork is becoming more of a necessity and curriculum is being taught through teams because it is more effective in practicing health care – both mental and physical.
As we learn more about people and the world we live in, fields become more complex and it's important to have experts collaborate with one another. One of the ways you can see this expressed at Victor is in our Wraparound approach where we have teams designed to support clients and their families.
'E' stands for Excellence
We hold ourselves to very high standards. This goes for everyone in our organization, top to bottom. Our clinicians and administrators operate with great responsibility and care for our clients. Those in leadership at Victor ensure we are pouring into our people so they can grow professionally and personally.
We don't just hope for excellence, we are accountable to it. Annually we review our organization for its results in our work and rate how good of a workplace we are. We rate ourselves on metrics like inclusivity, professional development opportunities, and employee satisfaction. You can even see them for yourself as we put them on our website.
'A' stands for Adaptability
According to Darwin adaptability was the means for survival in the natural world. Now it is a lifeline for all social workers and a mandate to providing the best service for mental and behavioral health patients. This value speaks to the ability to look at a current situation or problem and find ways to overcome it through a new path.
However, this skill takes a lot of energy. As individuals we need to make sure we are looking for ways to break out of systems that are no longer serving us. We should find ways to learn from hard experiences and become better, keeping our eyes open for new ideas, and creating space to try out different ways of doing things.
'M' stands for Mission Driven
It may seem redundant to have Mission Driven in a values statement, but it is crucial to be focused on this aspect of our organization. Our mission is the heart of Victor. Over 65 years ago our founder, Dave Favor, believed every individual should have the best chance possible for success. He developed a model to help troubled kids thrive in a community setting rather than an institution.
With this mission at the center of our work, we have expanded and grown, but still stayed true to our values. We now serve thousands of children and families across multiple Victor Treatment Centers and Victor Community Support Services offices. Following our mission also allows our staff to believe in the work they do. This makes the hard days fewer and easier to manage, the everyday good, and the good days life changing.
Industry Leader Through our Commitment to Values
We believe in the power of TEAM. We see the positive effects and concrete results keeping it the focal point of our organization produces. Through Teamwork, Excellence, Adaptability, and being Mission Driven, we are staying leaders in our field of mental and behavioral health in California.
Our CEO, Simona Cataldo, notes that Victor is unique not just in the work we do, but the way we do it and our culture.
"No matter what the future holds, our mission doesn't change."
We know the work is hard, but it is also worthy. That's why we care about our entire system of operations and people. If TEAM resonates with you, we invite you to look at our current job offerings and see if there is a fit for you to join our team and help others soar.