Celebrating Social Worker Appreciation Month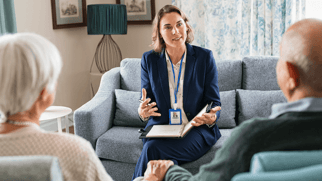 Social Work is a broad field of expertise. It includes mental health, county services, community support services, judicial and foster care systems. Often, the people who are drawn to this work want to make a difference in the lives of others. Their job requires resiliency and hope daily while using technical knowledge of everything from human behavior and child development to current local and federal policies.
We need social workers – they do so much for our society. Though not all our employees at Victor carry the job title "social worker" the majority do what is considered social work. We've been helping others soar for over 65 years and we can't agree more with this year's theme for Social Worker's Appreciation Month "The Time is Right for Social Work".
THE TIME IS RIGHT FOR SOCIAL WORk
The need for social workers is great. There are nearly 720,000 social workers in our nation. That number is expected to grow by 12 percent by the end of the decade, making social work one of the fastest growing professions in the nation, according to the Bureau of Labor Statistics.
Social workers have been an integral part of our nation for decades. Social workers played key roles in the Civil Rights and Women's Rights movements and pushed for social programs we now take for granted, including the minimum wage, a 40-hour work week, Social Security and Medicare.
The time is always right for social work. However more people are entering the field because the life-affirming services that social workers provide are needed more than ever.
This is especially true as our nation continues to grapple with the COVID-19 pandemic, systemic racism, economic inequality, global warming, and other crises. That is why the theme for Social Work Month 2022 is The Time is Right for Social Work.
A Brief History of Social Work
Social workers make up the largest group of mental health service providers. They can work with groups, families, and individuals depending on what is needed. They're located all over the United States in hospitals, county offices, court systems, counseling offices and nonprofit organizations.
They serve diverse populations in so many settings because people everywhere need their services. Social work has been around since 1898 when the first class of Social Work graduated Columbia University. Their initial mission was to bring a light to social and societal problems.
Over the years their work expanded, and in 1980 National Social Work Month was officially established so we could celebrate and honor the good they have done for society. Things like creating policies to support marginalized populations, fund access to healthcare, and protect children as well as providing mental health services.
Here is a short summary of what they have been able to accomplish throughout U.S. history:
Fought for civil and voting rights for people of color
Protested American intervention in wars
Achieved the minimum wage and safer workplaces for poor people
Expanded reproductive and employment rights for American women
Supported marriage and employment protections for LGBT people
Advocated for immigrants seeking asylum
Mental & Behavioral Health
Social workers in behavioral and mental health incorporate knowledge from multiple fields to promote the well-being of their clients. They work in assessing, diagnosing, treating, and preventing mental-illness and addiction in group, individual and family settings. Their knowledge and training are based in, but not limited to, human behavior, sociology, psychiatry, and psychology. They make up the largest group of mental health service providers.
Most social workers that work in mental health are licensed or certified in their area of practice. A typical process to become a social worker in mental health includes a bachelor's degree in social work or a related field, a master's program, and finally an internship or program where one obtains experience under supervision working with people who are experiencing mental health issues. That's why you may see a counselor with the letters LSW behind their name, it stands for "Licensed Social Worker". You may also see MSW, Master of Social Work.
While some mental health professionals work in one on one and in office settings only, the work a social worker does is broader. The intention of the work is holistic. They are dedicated to improving quality of life and strive for equity and justice for their clients. Meaning they look at family dynamics, socioeconomic status, and other external factors that could be affecting their clients. This creates a component of directing their clients to services and resources that can benefit them and their lives as well as counseling.
The Impacts of COVID of Social Work
We know that social work is in high demand and trends indicate there are people wanting to meet it. The social work field is expected to grow by 12% before 2030 and is one of the fastest growing professions in the US. Furthermore, clinically trained social workers are providing more mental and behavioral health services than any other professional discipline in the country.
At the forefront of our nation's mind has been the COVID-19 pandemic, systemic racism, and economic inequality. We need social workers to help lift up others out of situations they may find themselves in because of these factors and more. Not only is their education and training perfect to help with both mental and behavioral health but also navigating available resources.
Victor Mental Health and Behavioral Services
At Victor we take the responsibility of serving others very seriously and constantly challenge ourselves to do better. Our Victor Treatment Centers and Victor Community Support Services provide a full continuum of mental health services. We are innovative and create new programs and services to meet the needs of today while staying true to our mission.
Every employee in our organization contributes to this work, but this month we celebrate the social workers most for their chosen career path and honoring their calling to help others find health and a better life through treatment and hope.
If you feel called and want to work with Victor in Behavioral and Mental Health Services, we invite you to see what job postings we have available.