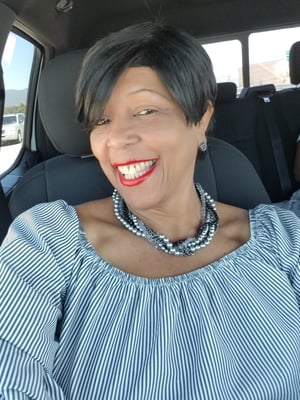 In her 22 years working at Victor, Cassandra Martin has touched the lives of countless young men and women. She prides herself on "meeting people where they are at," because every case is different; everyone comes from a different background and the first step in helping them is getting to know them. Once you know them, you have an idea of what approach is best for where they are at in their life. Cassandra never planned to work at the same place for 22 years and counting, she stayed because she loves the work. Victor appreciates the value of her contribution, both to the organization and the community. Cassandra says, "I truly love the organization that I work for, their values and what they stand for."
Cassandra moved to California from Michigan and was working as a teacher's aid in San Bernardino when a student who was living in a Victor group home encouraged her to come and work there. At first, Cassandra thought she might just try to get a part-time job there until it was time to take her exams. She applied and was hired, and over two decades later she hasn't looked back.
Cassandra knows that she has a natural gift to draw people in, learn about them and get them to open up. Her positivity and sense of humor get people to let down their guard. She has worked in schools, group homes and even volunteers at juvenile halls. Cassandra enjoys helping people, especially youth. She says "I just have an itch for loving people." Working as a Therapeutic Behavioral Services Coach, she gets the opportunity to scratch that itch a lot. She has put in some long days at group homes but the kids just love her and at the end of the day they don't want her to leave. They trust her. She represents stability and understanding for them, so saying goodbye at the end of a shift can be tough. Cassandra knows that some of these young people feel like their parents don't understand them. They look for understanding outside the home, and too often get caught up with groups that don't have a positive influence in their life. Sometimes that's gangs, or drug culture, or a group of people that have a bad influence and steer their lives in the wrong direction.
When Cassandra goes into a situation working with a new client she focuses on their strengths. She has the case history and knows what's going wrong, but that's not the focus of where she starts. These boys and girls already have the idea that she is there because they are "bad". Cassandra wants to change their view of the situation and of themselves. They have to learn to value themselves first. The challenge is that they feel like no one else cares about them, so why should they care about themselves? "You might not get through to everybody, but if you can just touch that one person and help them through it, it's all worth it" says Cassandra.
It's important to establish rules with the kids. The rules aren't just for them- they also apply to the Victor staff as well. Starting with some basic rules, they can lay the groundwork for a type of family structure. Even if the family isn't coming to see the child, they have the Victor staff and each other. There's mutual respect and support. Cassandra says, "I believe in teaching kids that structure is love. You have to have structure in life to do anything: to get a job, to go to school, even playing with your friends, you have to have some type of structure for all of that."
Cassandra's ability to help people started at a young age. She helped take care of her siblings when she was young because her mom was sick. Even at that age she knew this was a need that she could fulfill. Now, in her work she uses that same ability for everyone she comes in contact with. She knows the challenges and the struggles from what she went through, and she uses that experience to help others change their lives.
As hard as the work can be, Cassandra has a lot of fun with it. As you can imagine, after 22 years she has some stories. The funniest experience she had was when she was working at a group home in Muscoy. A young female client was getting extremely agitated and aggressive with a staff member. Cassandra tried to use verbal intervention but the client was in a very tense state. The safety officer came over and eventually they ended up having to restrain her to keep everyone safe. Cassandra ended up restraining the client in a prone containment on the floor and somewhere in all this commotion, the client looks up at Cassandra and says "Miss Cassandra, where's your ponytail?" Cassandra had been wearing a ponytail extension and in the struggle it had flown off without her even noticing. So Cassandra starts telling the safety officer and the other staff, "Get my ponytail!", while still lying on the floor restraining the client. Everyone starts to laugh at the situation, including the client. She felt the tension in the client decrease as she laughed and calmed down. Everyone kept laughing and looking around for Cassandra's ponytail. The client's demeanor totally changed, because of the funny situation and because of the rapport that Cassandra had developed with this client. Eventually they came out of restraints and the rest of the day was good. Oh, and yes, they did find her ponytail.
This October will mark 23 years Cassandra has been working at Victor. She always strives to keep growing; on her vision board for her 25th year at Victor is the goal of finishing her BA. She'll also be turning 60 that year, but you wouldn't know it from talking to her. She has more energy than most people half her age. Reflecting on her career Cassandra says, "I am so proud of all the opportunities that I have had while working at Victor, most of all, the lives that I have had the pleasure of touching and the growth that the clients have allowed me to experience in my professional life. I would like to thank Victor for 22 years and for the knowledge that I have gained while working with these children."
Thank YOU Cassandra, for your hard work and your decades of contribution to this company and the clients you serve so well.