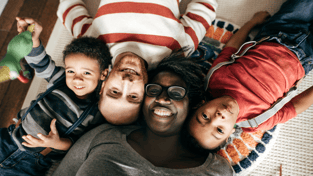 Navigating the complexities of emotions can be challenging for individuals of all ages, but it is particularly true for young children who often grapple with strong emotions. Often their expressions of their frustration can manifest in outbursts and misbehaving. Understanding and supporting young children in their emotional development is crucial for their well-being and long-term quality of life.
Meeting the Client Where They're At
In the face of significant challenges, Jordan was referred to our Preventative Wraparound services after struggling with school attendance and showing defiance towards his parents. When services began, Jordan was not immediately receptive and often retreated to his room. This made engagement difficult, however, our dedicated Family Support Coordinator (FSC) never gave up.
By meeting Jordan where he was at, our FSC patiently built rapport and encouraged Jordan's participation in services. Slowly but steadily, progress was made, and Jordan began verbalizing his needs and challenges. During this time, the FSC focused on boosting self-esteem, fostering positive communication, and developing coping skills to alleviate his anxiety.
Working as a Family
Prior to services, Jordan's mother was worried about her child's aggressive outbursts. Weekly Collaborative Family Team (CFT) sessions, facilitated by our skilled professionals, emphasized personal empowerment, and helped improve Jordan's self-esteem. The sessions also explored differing perspectives to help foster understanding between Jordan and his mother. Jordan's father was not available participate in services at this time.
However, the family as a whole was still able to develop a structured routine that supported responsibilities and created stability. With this new stability, the family and Jordan were able to focus on their emotional well-being and improving their relationship.
Speaking Up and Stepping Out
A breakthrough occurred when Jordan expressed difficulties in communicating with his father. This moment of vulnerability is what prompted the father to begin participating in the weekly CFT sessions. This small change made a huge difference!
Jordan's coping skills and personal empowerment became vital tools for managing his anxiety. School attendance, once sporadic, improved significantly, with Jordan attending classes consistently, missing only one day a week.
To practice social skills, the FSC and the youth ventured out into the community, experiencing real-life interactions. Inside the home, the whole family embraced positive communication and used an affirmations board to strengthen their bond and enhance Jordan's self-esteem.
As a testament to Jordan's progress, the youth's confidence soared, enabling him to attend our Family Vision Winter Event. Furthermore, the FSC continued to resource local community events which fostered continued positive connections among family members and opportunities for Jordan to continue to grow in a safe environment.
A Healed Home
With services, time, and patience family arguments decreased and the family started enjoying outings together, including dinners and movies. With their relationship transformed, Jordan and his father began spending more quality time together.
Jordan's story showcases the power of perseverance and the impact of Wraparound support services. It exemplifies how a family can overcome challenges, build resilience, and forge stronger bonds. Families like Jordan's are what motivates us at Victor and helps us to stay close to our mission; to be a catalyst for sustained improvement in the lives of those we touch.
We are honored to have played a role in this journey and are committed to empowering families on their paths to success. It takes all kinds of people to help us do what we do at Victor. From social workers, to clinicians, to IT and administration – we can't do what we do without the incredible people who come to work every day.
If you want to be a part of an organization that positively changes the lives of individuals and families, we invite you to explore our job openings linked below.