Socially Distanced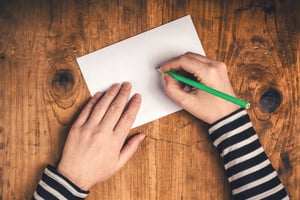 You've probably experienced a level of disconnection this year due to social distancing, mask wearing, and the challenges of living in quarantine. For most adults, this is a situation we can manage and cope with thanks to having the benefit of some perspective as well as established relationships with friends and family. However, for kids it can be a uniquely frustrating and isolating time.
Our client Kate* in particular was facing some pretty tough environmental factors. At 11 years old, she was removed from her friends and peers due to her school moving to online instruction, while she was also trying to come to terms with why she had to go into foster care. To top it off, her foster siblings are 4 and 2 years old - not the best companions for a pre-teen girl who needs to process difficult emotions.
Pen Pals
Because we know the COVID-19 pandemic has been so hard on our foster children, like Kate, we started a pen pal program to connect them to each other. Kate's Social Worker had the great idea to connect her to another one of her clients who is 15 years old.
Kate was so excited when she received her first letter. Finally, she had someone who could relate to what she was going through and that she could connect with. The same day she received the letter, Kate wrote her reply.
She expressed that she sees her new pen-pal as a mentor, someone she looks up to and who shares common interests. Kate has even asked her foster mother if she can meet with her pen pal at Starbucks once COVID-19 is under control.
Seeing this kind of response with the program, Victor FFA hopes to utilize pen-pals more in the near future. Resiliency building and connection are vital to the healthy development of our pre-teens and teens. And while pen pal programs have always been a great exercise, the benefits are even more evident in this season. The pen pal program helps our kids in a number of ways including promoting patience, sharing new perspectives, developing social skills, as well as improving their reading and writing skills.
Birds of a Feather
Much of our work at Victor is helping our clients develop appropriate coping skills and build resiliency, and we have knowledgeable and experienced staff trained to address a variety of needs. During this challenging season we have had to get creative and incorporate different strategies to serve our clients, like introducing a pen pal program.
Our team at Victor isn't immune to the waves of emotions that we are all navigating in life and work these days. We are finding new ways to connect amongst ourselves as a staff and we know that sharing positive stories, like Kate's, is a big part of keeping everyone inspired. We hope it's given you some encouragement too. If you think a place that helps others soar and cares about its employees supporting one another, then take a look at what job opportunities are available
*Kate is not the client's real name