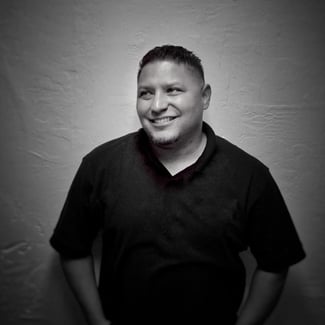 Where do you find inspiration? Your church, friends, family? What inspires you when you have a tough week and need encouragement? For Mike Hernandez, he has found that "You get what you give." Offering encouragement and inspiration to his friends and coworkers helps Mike to stay positive and motivated.
The first Thursday of every month, Mike sends out an encouraging text to his friends and coworkers. This is a tradition he started last year and has stuck with. Mike likes encouragement, words of affirmation are his love language. He paraphrased a quote he likes from Zig Ziglar saying, "When you encourage others, you are also encouraged in the process, because you are making a commitment and a difference in that person's life. I try to give out what I want to get."
Mike has needed encouragement in his own life. Growing up in the Fresno area of central California he got himself into some trouble. He was on probation in high school and had a lot of restitution to pay. He had seen his older brother struggle with substance abuse and he was headed down that same path. He started seeing himself doing things he never thought he would do. He didn't want to turn into that kind of person, but found it hard to make a permanent change when he was hanging out with the same people in the same places. Mike decided he had to get out of that environment.
Mike ended up in Los Angeles and checked himself into a discipleship program. After a year he graduated and started an internship there with hopes of going into youth ministry. He was working in the kitchen, but spending all his extra time at youth ministry and doing activities at the group home they had on site. Mike found he really liked working in the group home and had a strong connection with the kids. Some of these young boys already had a history of abuse, drugs, gangs and behavioral problems. Mike always found a way to come at them with compassion and understanding. His own struggles in youth gave him insight into what these kids were dealing with.
Today, Mike Hernandez is a Residential Services Supervisor and Administrator for Victor in Redding, CA. He has worked for Victor for almost 2 years, but has a total of 14 years experience spread out across the 4 group homes he has worked in. Mike runs the Clairvaux Home and is in charge of training staff, scheduling and overseeing the day to day operations. He has boys between 11 and 17 years old. A lot of kids are referred by social workers from the foster care system. They also have kids with developmental disabilities or ones that fall somewhere on the Autism spectrum. It's not always easy work, so words of encouragement can go a long way.
One of Mike's favorite quotes comes from Warren Buffet, "Someone is sitting in the shade today, because someone planted a tree a long time ago." For Mike this means that "The work you do today, the seeds you're planting into these young people, will someday grow into something beautiful in their lives." Mike had people in his own life that did that for him; teachers, counselors, juvenile hall officers are all people that have spoken things into his life that have stuck with him through the years.
As youth counselors and therapists, Victor employees have to give redirection and sometimes consequences to youth that aren't acting appropriately. Mike finds wisdom in a quote from Josh McDowell, "Rules without relationship lead to rebellion." In order to enforce rules and social norms you must first have understanding and relationship. When you look at successful stories of kids who have been in group homes, Mike is positive that the main ingredient for success is positive relationships. The kids have to connect in a positive way with the staff, counselors, and teachers in order to make progress. Mike illustrated this point by saying, "A relationship with our client is the vehicle that drives the treatment forward. We have to bank on it, continuously making deposits into the relationship account; positive reinforcement, encouragement, quality time, etc. So that when it comes time to make a withdrawal from that account; enforcing rules, redirecting, processing after crisis, then we don't end up bankrupt."
Other Victor staff will often text back, expressing their appreciation for sharing something encouraging or inspiring. Sometimes when you're having a tough week, an encouraging word makes all the difference. It's not an easy job. The clients we work with are not always going to appreciate what you are trying to do for them. Don't take it personally. As Mike says, "It's not about us. You're probably not going to be everyone's favorite staff member." But for Mike it's the people that challenged him, the authority figures he sometimes resented, who really made a difference. He keeps that in mind when training staff and encouraging them through tough situations.
A final quote that Mike shared comes from Barbara Caruso, "If kids come to us from strong healthy functioning families it makes our job easier. If they do not come from strong healthy functioning families, it makes our job more important." That resonated with Mike and he decided to share it with other staff explaining, "We have clients who are hurt, broken from various backgrounds. We are to be the catalyst for sustained improvement in their lives, as our mission states. A great majority of our clients don't understand what it's like to have people who care, set boundaries, love and encourage them unconditionally."
We are fortunate to have Mike Hernandez as an important part of our organization. His work with the kids, and nurturing of the staff embody the values that our company culture is built on. Keep sharing and inspiring!
Are you looking for an inspiring career? Do you thrive on helping others? See what it means to work for Victor.