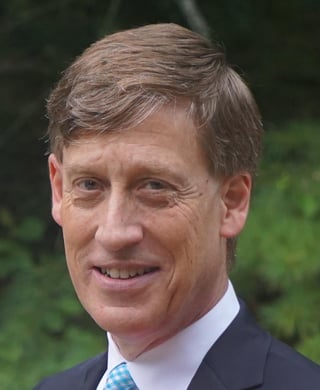 We wanted to take a moment to welcome Ed Hackett to the Administrative Office in Chico, CA. Ed joined us 3 months ago as our new Chief Financial Officer and we have been enjoying getting to know him and the leadership strengths he brings to our organization.
Ed comes to us with 18 years of work as a financial professional in two organizations: Wheeler Clinic in Plainville, Connecticut for 8 years, followed by 10 years at The Village in Hartford, Connecticut, which is where he was working when Victor reached out. The Village was an organization very similar to Victor as they had residential programs, after school and extended day programs for kids, along with community based in-home programs, foster care, and a number of other programs.
At Victor we have discovered that quite often the best candidates for leadership positions are those that are not really looking for a job. They are doing well where they are and bringing great value to their current organization. When we posted this job with the professional search firm we had quite a list of criteria and we were willing to wait until the right person surfaced. We wanted to find someone who met all of the following:
Leadership in a financial/administrative team in a large non-profit
Happy and successful in their current job. Not looking.
A track record of stability and success
Very strong references
Able and willing to relocate to Chico
Healthy person with excellent emotional intelligence (EQ)
Ed Hackett was that person.
When asked why he was drawn to the opportunity at Victor, Ed responded "I felt that professionally, it was something consistent with what I've been doing in my career the last 18 years, so it was of interest that way. The mission resonates with me and that is something I don't take lightly."
The icing on the cake was, as they say, location location location! In addition to the job being a great step professionally, Ed also told us that he and his wife had a long-term goal of moving to California, but didn't have a clear timeline or specific city. Needless to say, an opportunity in Northern California that fell clearly in his area of expertise with a mission that resonated was something Ed knew was worth investigating. Furthermore, Ed resonated with the culture and leadership team of Victor. The combination of a great agency in a great location sealed the deal. Furthermore, Ed resonated with the culture and leadership team of Victor. The combination of a great agency in a great location sealed the deal.
When asked what he found most interesting about Ed as a candidate, CEO Douglas Scott noted several key elements that aligned perfectly with the criteria outlined above including:
Ed came with excellent references and a demonstrated ability to be a strong team member.
He has had success as a CFO in two similar organizations.
Ed has a confident yet unassuming personality. He is steady and predictable.
Ed brings a strong knowledge of our field, funding types and services.
He demonstrates the ability to balance both big picture, strategic thinking and day to day accounting and administrative operations.
And finally, he had a desire to relocate to Chico and to join a large, complex organization with a strong leadership team.
We are very excited to have Ed as part of the Victor leadership team. He is looking forward in 2018 to having the chance to visit the various sites throughout California, meet more of our employees, and continue to deepen his understanding of the Victor family and the services we offer.
When asked what was a fun fact we should know about him, Ed's response was: "I'm a big fan of the New York Yankees, and that began when my Grandfather took me to a game at Yankee Stadium when I was 8 years old." Fellow Victor Yankee fans, you have a new member in your ranks!
Welcome aboard Ed!