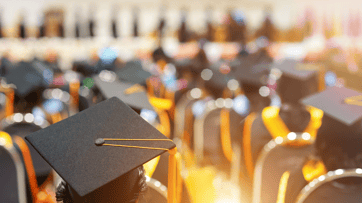 Imagine not having a stable place to call home; no permanent bed to sleep in, no consistent support system to rely on. This life of uncertainty and hardship was Shannon's reality at 17 years old, until she was placed in foster care in April of 2022.
Prior to entering foster care, she would couch-surf and stay with friends and family whenever possible. Her home life was very dysfunctional, and her mother would often kick her out. This left her in a constant state of instability.
Despite these challenges, Shannon was determined to take care of herself and her younger sister, who was also in a foster care placement. However, it wasn't until she was connected with Victor services that she was able to start building a more stable and hopeful future for herself.
Finding Stability and Support with Victor Services
Upon meeting Shannon, her Victor clinician, Julie, quickly identified one of her main stressors: graduating from high school. As a senior who had just been placed in foster care, Shannon was worried about how she would be able to earn enough credits to graduate. Luckily, Julie had previously worked as a foster and homeless youth liaison for a local school district and was well-versed in the assembly bills that protect and provide resources for foster youth.
And so, I was able to let her know, "Hey, don't worry. There're things out there that you can use to help you with that," said Julie.
Julie informed Shannon about AB-216, which allows foster youth to graduate with fewer credits than required by their school district. It is not uncommon for foster youth to fall behind in school due to frequent moves and gaps in their education. This assembly bill was designed to aid students in foster care by acknowledging the unique challenges they face and providing them with the resources they need to succeed.
Because this path required less credits it would make it easier for Shannon to graduate on time. With this knowledge, Shannon presented the information to her high school counselor and was approved for the program.
From Foster Care to Student of the Year
The positive impact of this bill on her education proved invaluable and her hard work was recognized when Shannon earned the Student of the Year Award for her School District!
Shannon was able to make an impression on her teachers and peers in just six months of attending her new high school, earning her this coveted award. This success showed her that with the proper tools, help, and dedication to therapy, she can achieve anything she sets her mind to.
According to Julie, Shannon's mindset shifted during her foster care placement. When Shannon was finally in a safe and stable home she was able to see the opportunities ahead of her.
She said "You know what? Yeah, this is my life now. But it's also an opportunity for me to better my situation, and better myself."
Shannon continues to face challenges, but this recognition lifted her spirits and motivated her to strive for success in all areas of her life. With graduation around the corner, she is determined to overcome any obstacle knowing that if she puts her mind to something, she can achieve it.
Building a Better Future
Before foster care and receiving treatment, she didn't have hope for what she could do after high school. However, with her new circumstances, she's taken a proactive approach to what comes next. Though she turned 18 while in foster care, Shannon decided to stay in the extended foster care program and is still at her current placement. She enrolled at her local community college and is also connected with the foster youth services available there.
Shannon doesn't know exactly what career or educational path she wants to pursue, but she's driven to create a better life for herself. With the help of scholarships and other resources provided by the college, she is on her way to achieving her dreams.
Success Through Therapeutic Support
Shannon's story is one of perseverance and strength, and everyone involved in her journey is proud of her and the progress she has made. Despite all the barriers and hardships, she had to endure in such a short amount of time, she managed to overcome them all.
She's really of a mindset of, "This happened, but this is an opportunity for me."
Since Julie and Shannon started working together, the progress in Shannon's mental wellbeing has been tremendous. She used to have trouble getting out of bed, but now she's functional and able to attend school regularly. While there are still days when she struggles, overall, there has been a huge improvement in her life.
Therapy has been a significant part of her journey, and she credits it with helping her process personal situations and getting the mental health help she needed. Shannon received treatment from her Victor clinician, Julie, and a family support counselor (FSC), who have been working together with her on living and coping skills.
The Reward of Being a Mental Health Professional
During Shannon's speech receiving her Student of the Year Award, Shannon recognized Julie's role in her success and it nearly brough Julie to tears.
"For someone to say, 'For the rest of my life, I'm going to remember how you helped me,' is a huge honor and a great reward for me, just as a person," Julie explained. "Because we're in this field because we love to help."
Despite the challenges of the mental and behavioral health field, Julie is motivated by the belief that if she can make a difference in just one child's life, she's done her job.
Julie repeatedly affirms her clients that they've done the hard work and they have ownership of their journey and their successes. She claims she just holds their hand through it and provides the resources they need to get there. Julie also credits working for a good agency and having her own support makes her work easier to do.
However, a job in mental and behavioral health is not an easy one. It involves working with vulnerable youth, including foster and homeless youth, and providing them with the guidance and support they need to succeed. But the rewards of the work are priceless.
"Good things do come from it. We do make the difference in someone's life, but sometimes we're in the work and we don't see it."
For those who work in the field, Julie's dedication and passion are a reminder that your work matters and makes a real difference in the lives of the youth you serve.
For anyone interested in entering this field, Shannon and Julie's story offers hope and inspiration that you can make a positive difference in the lives of others through your work. If you'd like your work to make an impact in this way, we invite you to look at the job opportunities we have available at Victor. There are positions ranging from admin, to IT, to clinical and more so find one that suits your skills and apply by clicking the link below.