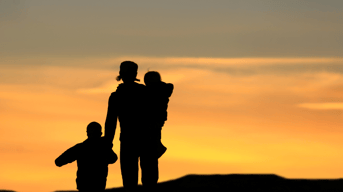 It takes a lot of courage to realize that you need help. It takes even more courage to ask for it. Lisa went even beyond that.
She stood before the Nevada County Board of Supervisors to tell them her story of going from homeless mother to social worker in support of Eligibility and Employment week. She credits the health of her children and family dynamics to Victor Community Support Services.
A Difficult Situation
As a single mother with little work experience, Lisa found herself struggling to make ends meet. She and her boys were homeless, living in an RV and parking wherever they could find a spot. This RV was also their only means of transportation which made gas incredibly expensive.
This living situation took its toll on her children. Her oldest son started running away from school and refused to stay in class and her younger son started showing signs of PTSD. Due to her children's' behavior, Lisa was unable to keep a steady job. It soon became clear that something needed to change.
Children's Services
Lisa knew she needed help, and fortunately, she found it through the many programs and services offered by Nevada County Social Services. With the support of CalWORKS, CalFresh, and Medi-Cal, she was able to afford basic necessities such as food, transportation, and healthcare.
However, it was the support of Child Welfare, Children's Behavioral Health, and Victor Services that truly changed her life and her children's lives. She said voluntarily choosing to receive services was the best decision she made for herself and her children.
Through therapy and counseling, Lisa's boys started to make progress. Her older son was able to attend a special school with all the support he needed. His running from school started to decrease and he learned how to communicate his needs and moderate his feelings. Today he actually enjoys school!
Lisa and her younger son underwent PCIT (Parent-child Interaction Therapy) to improve their communication and set healthy boundaries. The therapist would watch her and her son play behind a mirrored glass and then speak to Lisa through an earbud to instruct her on how to interact with her son. Lisa credits these services for the positive changes she saw in her boys and for helping her make better choices as a mother.
Taking the Final Steps
With the help of Hospitality House and Booth Family Center, Lisa and her boys were able to find stable housing for the first time in a long time. She took advantage of the programs offered by Welfare-to-Work and Connecting Point to learn job skills and eventually landed an internship with the social services department.
The six-month internship provided Lisa with valuable experience and skills that helped her secure a job at Safeway. However, her passion for social services never waned, and she went back to school to obtain her AA degree in Psychology. Her hard work paid off, and she was hired as a Human Services Specialist for Nevada County in April 2022.
Today, Lisa and her boys have stability, healthy boundaries, and great communication. They have a loving home, and Lisa is proud to be a part of the department that helped change their lives.
Giving Others a Hand Up
Her story is a testament to the power of perseverance and the importance of having access to support and resources when facing tough times. One Nevada County Board member remarked,
"Lisa, your story shows that if we give people a chance that they might need, we benefit from it in the end...And then we can all work together to keep that cycle going."
At Victor, we know the power of connecting services to those who need them and the power of giving someone a hand up. For Lisa, it was giving her the resources to parent well, maintain a job, and have a stable roof over her family's head. Because of that support, she was able to secure an internship, gain her college degree and now she's a social worker helping others overcome situations like the one she started in.
This type of work is a calling, and we're thankful to have been a part of Lisa finding her path to helping others. If you're curious about this industry of mental, behavioral health and social work, then we invite you to explore our current job openings. You don't need to be a clinician to apply – we have many jobs to suit a variety of skills.