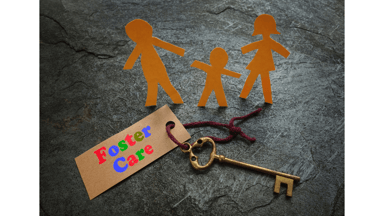 While the process of how to become a foster parent can vary from state, to county, to individual agency, they all share some of the same components. All prospective foster parents must find a local foster care agency, complete an application process, and complete initial trainings before they are approved.
The purpose of these steps is to verify that you and your home are safe and prepared for foster children. Agencies, like Victor FFA, want to be sure the living environment where we place children is good for their healing and development while they work toward the reunification of their families. Becoming a foster parent currently comes with more convenience and flexibility than ever before because of technological advances and innovations during COVID-19.
First Decision
The real first step in becoming a foster parent is making the intentional decision to become one. Ask yourself some key questions.
What is your motivation for becoming a foster parent? If it's to give a safe and loving home to a child in need, then you are on the right track!

Is it the right time in your, and potentially your spouse and family's, lives? Bringing a new child into your home will mean adjusted routines, but also a chance to make new memories.

Will you be able to see past

behaviors and recognize

unspoken needs? Difficult situations can arise when you're foster parenting. If you can supply the desire to work through these moments with a foster child, we'll provide you with the training and support to do so.
For more guidance on deciding if becoming a foster parent is right for you, check out our eBook here.
Finding a Local Foster Care Agency
Once you have decided you're ready to become a foster parent, it's time to find a local foster care agency that fits you. There are many children in foster care and counties partner with agencies to meet the need of finding safe homes for them.
When looking for a foster care agency that fits you and your family, consider the values that are important to you. You're sure to find an agency whose mission statement you agree with and are even encouraged by.
We also suggest you research the credibility of the agency and what support services they offer. Some agencies, like Victor FFA, have a long history of improving the lives of others through mental health services and have the resources to support our foster families 24/7. Our trainings are thorough and designed to provide community and education throughout your foster care journey.
For more information on what to look for in a local foster care agency – check out our blog here.
Initial Process
Look at you go! You've done the hardest part of the process, and now that you're committed to one of the most rewarding endeavors you can do, it's time to start paperwork and training.
Depending on your county and what agency you choose to partner with, the process may be in a different order than what we've listed, but the components should remain consistent. The beginning portion typically includes an informative orientation, initial home safety check, and application.
Orientation
We have monthly orientations in both English and Spanish to provide information for prospective foster parents. In the orientation you'll learn about the Resource Family Approval (RFA) process, the agency and what children they serve. Resource Family is a formal term for foster families.
Our orientations are no strings attached. You can come and receive more information about Victor FFA without any pressure. Leave your contact information for us to follow up if you are still in the beginning stages of deciding what agency you want to partner with.
After the orientation, if you feel ready to move forward with the process, we will help you fill out your application and initial paperwork and schedule a preliminary home inspection.
Home Safety Check
There will be a total of two home checks before a child is placed in your home and they each serve a different purpose. The first one is a safety check, so we are assessing your home in a physical respect only.
A licensed social worker will visit where you live and assess it for risk factors. It is too lengthy to go into them all here. Instead, we can assure you that your visiting social worker will have a checklist with everything they look for.
The reason behind this check is to protect you and everyone in your family. Almost all the problems on the checklist can be fixed. In this visit, you may also be asked to document pet vaccinations and water drinkability if you have a well.
If the safety check goes well, you will be given a copy of the state foster care licensing rules and regulation and be able to begin collecting the required documents.
Collecting Required Documents and Application
You may be thinking, 'But didn't we already submit an application?' and that's understandable. So, let's clarify how the collection of documents and application differ from the initial application.
We'd also like to note that our Victor FFA application process can all be done online.
That includes everything from filling out forms, to signatures, to uploading documents. You don't need to print or scan real paper, unless that is what you prefer. A licensed social worker will be with you through this entire process, so if you have any questions along the way please ask!
For Victor FFA specifically, you'll need to provide the following documents, but other agencies have similar requirements:
Fingerprints for anyone 18+ living in the home

Physical exam and TB test for all adults living in the home

Valid form of photo ID

Social Security (if applicable)

Marriage/Divorce/Death Certificate

DMV Driving Record

Vehicle Inspection

Auto Insurance

Homeowners/Renters Insurance

Pet Vaccinations

Proof of Income

CPR/First Aid & Water Safety

3 Personal References

Back-up Caregiver
To make the process as smooth as possible be open and honest with your social worker. If you have concerns about something you think may prevent you from becoming a foster parent, we want you to ask!
Transparency is an important quality in a foster parent, and dishonesty and untrustworthiness can result in an end to the process of you becoming a foster parent. We've been a part of many success stories helping people overcome what they thought may be barriers to becoming foster parents.
Background Checks
Background checks are standard in this process to ensure the people we are placing children with won't be a harm to them. Fingerprints will be scanned and used to complete a criminal background clearance.
Please know that previous arrests or convictions won't automatically prevent you from becoming a foster parent! The background check is more subjective than that. The type of charges and when they took place will be taken into consideration.
This portion of becoming a foster parent can happen in the middle or towards the end of the process with the final family interview and second home check.
Trainings
At Victor FFA, we are particularly proud of our support and trainings for our resource families. Training isn't something that comes just at the beginning of your foster care journey but throughout. You'll be required to attend initial required trainings and then annual trainings following that.
Trainings are designed to educate you about the foster care system, needs of children, and how to be a resource parent and family. You'll also be required to complete CPR and First Aid training that we provide.
Required Trainings
Initial:
20 hours for Basic Foster Care

40 hours for I

ntensive

S

ervices

F

oster

C

are (ISFC)

Basic Foster Care

ISFC

Adoption class

Home visits
Continued Annually:
12 hours per year

FCSW provide 1 hour a month

2 hours can be gained in monthly support groups

Community Kinship Classes

Events throughout the year

ISFC 32 hours the first year
Prior to COVID-19 our trainings were done in two 8-hour sessions at a Victor FFA office. However, now all our initial trainings are completed through 2 sessions of video calls and online courses. You can complete the online courses at your own pace.
Home Study + Family and Background Checks
One of the final portions of becoming a foster parent are the home and family checks, sometimes known as a home study. It's a combination of a home visit and interview for you, your spouse and other family members to get a better idea of who you are and the culture of your home.
The agency will ask you about your social history, childhood, relationships, and interests. It is an extensive process but shouldn't feel invasive or exhausting. Think of it more as an opportunity to share who you are, who your family is and what life is like in your home. The interviews can be group or individual.
Placement
Congratulations- you're finally approved to be a foster parent in California! You've completed your training, participated in interviews, and all the paperwork is filed. Because of the trainings and family interviews, the agency you've chosen to partner with will have a good idea of what foster children will do well in your home.
Foster care serves ages 0-21 from a variety of backgrounds and therefore placements are not a one size fits all. At this point, you would have told the agency how many and what ages of foster children you are prepared to accept. Depending on the placement, you'll also be updated on any additional support services needed to meet the child's needs.
If it looks like a lot and feels overwhelming, we want to assure you that at Victor FFA we are with you from the moment you sign up for one of our informational webinars and every step of the way after that. When you become a foster parent, you'll have 24/7 support and a designated social worker.
We're passionate about connecting children in need with loving homes. If you have any questions about becoming a foster parent, please reach out to us or get more information in our free ebook linked below!