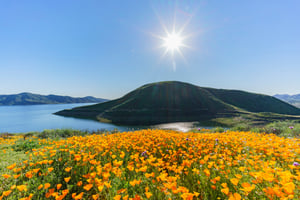 Victor's Hemet office opened in March of 2018 to a community that welcomed us with open arms. Hemet is a city in the San Jacinto Valley in Riverside County, California. One fun fact about Hemet is that the city is known for being the home of The Ramona Pageant. Started in 1923, the play is one of the longest running outdoor plays in the United States. We had the opportunity to speak with the new Executive Director of VCSS Hemet, Alana Dunn.
Although Ms. Dunn is new to the Executive Director position, she has actually been with Victor for over 12 years! She was instrumental in starting the Lake Elsinore site and is now excited about the impact Victor can make in Hemet. Here's what she had to say about their progress:
What are You Most Excited About?
There's such a high level of need here in Hemet and we are excited to be able to step in and offer hope and services. Every agency that's out here, including the county, has been impacted for years. We are getting to the point where we're almost full within just three months of being here, so that speaks to both the need and to how our services here are being received. Victor has created such a great reputation with our other offices in Lake Elsinore and Perris that the community here in Hemet has welcomed us.

This area is known for drug use, especially methamphetamines. We see a lot of families out here with multiple generations of drug abuse. That creates families where kids have been taken away and put into the system. There's a lot of family trauma associated with drug abuse, it's yet another unfortunate side effect.

The schools have been really open to us, and expressed excitement about Victor having a larger presence here in Hemet. We've been serving the area for a long time through our Lake Elsinore office, but now are excited to be right here in town. We will be able to do so much more in this community that really needs us.

How Has the Staffing Process Been?
It's been really exciting starting the Hemet office. I helped start our Lake Elsinore site so I've been part of the process before. The staff seem really excited and happy to be where they are. We talk a lot about the culture that Victor has, and the expectations and they are totally in line with Victor's values and mission.

Everyone working here is truly invested in the success of our programs, and they know that Victor is also invested in them and their personal growth. I've been getting really great feedback from the staff about feeling genuinely valued and respected. The entire staff has been busting their butts and taking on extra work, but they are doing all that with a smile because they love what they're doing. My goal, of course, is to continue that enthusiasm past our start-up phase, and to make sure employee satisfaction remains high.

As we continue the hiring process, all the new staff members are reaching out to everyone they know, and saying things like, "You've got to come work here, it's amazing!" I think the fact that people are doing that speaks volumes.
What is Your Vision for the Future of Hemet?
The early enthusiasm from the community and new staff at Hemet is very encouraging. I hope that we can keep pace with the needs of the community and eventually expand the programs. I helped to start the Elsinore site with just one program, and now they have multiple successful programs running! I look forward to growth opportunities like that here in the Hemet office.


Our Continued Commitment
At Victor, it is all about relationships and results. Our mission is to be a catalyst for sustained improvement in the lives of those we touch. Relationships are the focus at every level of the organization, with the families we serve, our employees, and the counties who seek our assistance. It is through these relationships that we achieve the greatest results in fulfilling our mission.
We believe that helping others soar is both a gift and a responsibility. That's why our mission starts with supporting strong employees who are valued, respected, and listened to.