Victor Perris' Family Holiday Party Returns
There is a magic of the holiday season that comes from the spirit of giving. Victor Perris began cultivating that magic when they began their Family Holiday Party. This event is a labor of love put on by staff members who volunteer their time to join committees and facilitate this event. They go above and beyond to plan fun activities, work with vendors to supply food and prizes, and bring everyone together to celebrate.
Finding Success Again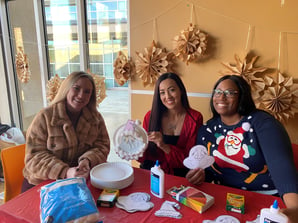 This event has been put on for several years. It began with a small committee of staff and leadership who wanted to create a more structured holiday event for clients and families. Victor reached out to community partners for food donations, raffle prizes and anything else to make the event special. The event continued to grow from maybe a hundred people in the first year to 250 people attending before COVID happened.
Being the first year back, things were a little uncertain, it felt almost like starting over and Victor staff were unsure where families comfort zones would be in terms of large gatherings. However, Victor found success again with almost 150 people attending! And that's not even counting staff.
Victor employees who work with youth everyday thought of engaging and fun activities with a holiday twist that they knew their clients would enjoy. There were multiple different activities like trivia games, decorating ornaments and making Grinch masks. In a great stroke of luck, each family was able to walk away with a raffle prize.
Santa Surprise

Though everyone enjoyed themselves at the holiday event, there was one particularly joyous moment.
Being it's a holiday party, Santa had to stop by, even though he is a very busy man during this time of year. However, Santa may or may not have also been a Victor staff member.
When Santa arrived, a young client went up to him and Santa addressed her by name. She was so surprised! She looked at her mom and said, "Oh my goodness, Santa knows my name." In that moment the magic of Christmas became very real to her and her mom.
Clients were running up to their case workers and technicians to say hello. Kids were pointing out raffle prizes they were excited about and then were over the moon when they won them. Children were also having fun creating Christmas crafts. The many moments of excitement and smiles were very special to see.
The Why Behind the Family Holiday Party
The inspiration behind the holiday party is simply "good client care." Victor staff wants families to feel celebrated, special, and the Family Holiday Party gives them the space to do just that.
Our clients range in economic status and don't have equal access to the same resources and opportunities. This holiday party is an inclusive space where kids and families get to engage in fun activities they may not normally be able to. Plus, there is a chance to build community.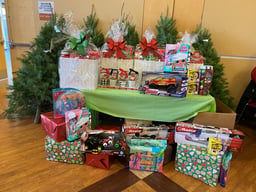 Many of the staff that plan and attend this party work directly with the families. When working with kids in mental and behavioral health you are often addressing challenging behaviors, situations, and dynamics. The Family Holiday Party creates a space where clinicians get to see the families they work with and just have fun!
The hope is the families feel as much of or an even greater positive impact as the staff. The number of families who attend is an encouragement to the staff that they are succeeding in that hope. Victor is able to provide a free meal, desserts, and prizes. Those range from toys, family games and activities to gift cards and gift certificates. The prizes create opportunities for the families to engage with one another after they leave the party and throughout the year. Whether that is playing with the toys, getting together for a game night, or using a gift card to purchase and share a large meal together.
Creating a Culture of Service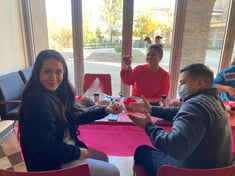 This event isn't possible without the staff going above and beyond expectations when providing services. It's not included in a job description. The joy that events like this bring only come from a deep seeded place of service to others. When the thought of bringing this event back was proposed to staff, the whole team unanimously agreed that this was something positive they wanted to provide their families with and they were excited to participate.
If you feel called to serve others and provide excellent service, there may be a place at Victor for you. We have a desire for our employees to develop and grow and encourage you to explore the opportunities we currently have available by clicking the link below. We wish you joy, hope, and the blessings of community this holiday season.