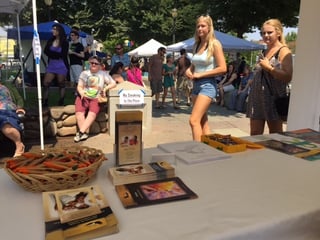 The Chico Stonewall Alliance Center hosted its annual Chico Pride celebration event on Saturday, August 19. Stonewall Alliance is an organization that unites, strengthens, and affirms the community through support, resources, education, advocacy, and celebration.
This year, Victor Community Support Services, Chico, had the opportunity to be present at the celebration and show support for the families of Butte County who are part of hte LGBTQ+ community. Victor partners with the Stonewall Alliance Center, offering support to our clients and helping decrease barriers to youth accessing mental health services. Victor's services are safe and inclusive for youth and families who are part of the LGBTQ+ community.
The celebration was joyous and a great opportunity for Victor to promote our excellent services and to help remind families that we have been a provider in Butte County for over a decade. This was also a great opportuinty to show that we truly are a community agency that provides care in the setting that is most convenient and accessible for families. Our staff had the opportunity to have conversations with a number of parents and provided helpful information to them on how to link their children to Victor's services.