Meet Genell
Genell is a 30 year veteran of Victor, with roots dating back to 1986!
These days that is an amazing statistic all by its lonesome. We thought it would be fun to share her story.
When "No" isn't the answer you want!
When Genell first learned about Victor it was through a program that was called "Stepping Stones". Genell knew that she wanted to work with kids, but she had no idea in what capacity. When she discovered Stepping Stones she applied for a job, and was sent a rejection letter. The letter didn't say why she was rejected, so she decided to keep pursuing it until they changed their minds or she had a good reason for the "no" answer. Her persistence paid off and she learned that she was turned down for one simple reason. She was not yet 21! So, she waited, and on her 21st birthday she called again, asked if they remembered her and restated her interest in the position.
The Journey Begins
She was hired on to work as night staff in one of the residential homes in 1987. And thus began a journey with Victor that has spanned multiple years, multiple job roles, countless stories, and a perspective on Victor that is born out of journeying through consistent growth, program changes, new opportunities, and new leadership.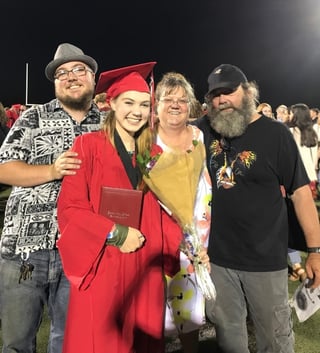 Genell started her career with Victor, and loved the organization and the work that we do so much that she continued working even as she got married, started her family, and in her early 30s went back to school to further her education so that she could become a Clinician and further her impact within Victor. Genell will tell you that her family "was raised in Victor and the Victor culture" with the values and commitment that shape the culture of serving kids with behavioral challenges.
A Career of Incredible Service
After spending 28 years in various positions in the Residential side of Victor, with jobs that included Instructional Aid, House Supervisor, Behavior Specialist and then Clinician, Genell is now an Executive Director in the Community Support Services area of Victor. When asked what she values most about the Victor culture, Genell went back to the origin story of one man, Dave Favor, who had a vision to make a difference. A vision to change how this population of kids and their families are served. This is a vision that she believes has continued to be the core of the Victor culture throughout the history of the company and will continue to be into its future.
Sage Wisdom
One word of advice she has for her fellow employees? "The work we do is hard work, and some days feels impossible, but it is incredibly rewarding work. If you find yourself feeling like you are struggling with your mission, remember you aren't alone. Others at Victor have faced and overcome this, and rediscovered the passion that brought them to Victor in the first place."
Coming from a 30 year veteran who is as excited to be working at Victor as she was when she was 21, that's proven advice!
We love celebrating our employees and Genell is a great example of what it looks like to make a career at Victor.