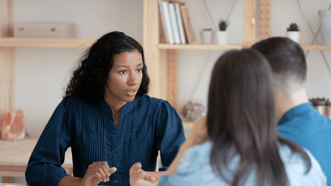 Mental Health America's theme for National Mental Health Month is Tools 2 Thrive which places an emphasis on providing practical tools so anyone can improve their mental health no matter their situation.
Though there has been great work in past years to lessen the stigma of seeking help or treatment for mental health, the stigma still prevents people from getting the help they need. There are additional reservations that are a result of poor past experiences with mental health professionals or agencies.
We can't help people with their mental health unless they first feel safe seeking help or can be connected to resources. This is what our Victor Community Support Center (VCSS) in Redding has been working on for the past two years across Tehama County.
Getting Connected with Families
VCSS Redding's Child and Family Team (CFT) is facilitating meetings and encouraging families to have voice and choice while interacting with more formal resources such as Child Welfare, Schools, Probation, and our agency.
Families often have ill feelings or fear with agencies like the child welfare system. They see it as something that either has taken or could take their children away. Understandably, this outlook would strain relations and any willingness to work with them.
Our VCSS Redding tries its best to give clear descriptions of our services and ensure the families that our job is to remain neutral to ensure they have a voice in what the plan is for reunification or placement in a relative or resource home. When working with them we are not judgmental. We meet the families where they are at on their journey and seek to find their strengths.
Identifying Needs and Providing Resources
We get connected with families through a referral, made by the child welfare system, to have a meeting with our CFT. The state has put forth legislation to ensure teams like ours are working with children and biological families to:
Increase their voice
Advocate for their needs
Develop formal and informal resources
Utilize a multidisciplinary approach
Our role is to engage the family and build trust in a formal agency so they can have more efficient access to resources they need. We identify resources to support the youth, organize and facilitate the meeting and provide possible connections and care coordination. After every meeting we create and send out an action plan to all team participates.
When engaging children and families, we may use interventions to instill goals and hope for the future. We also update and utilize the child or adolescent's needs and strengths inventory as a communication tool with all organizations.
The work we have been doing is what allows for us to make more of a difference. By meeting and building relationships with families we can better provide them with the resources to improve their mental health and livelihoods to reach their desired outcomes.
Tangible Change Through Sincere Care
The staff on our CFT program has gone above and beyond to build trust with families and let them feel heard. Recently, a caregiver gave us the following feedback about Natalie, a Family Support Counselor with our program.
"This is only my second time working with Victor Community. Both times I have worked with Natalie. She makes the process seamless. She is an attribute to your organization. I appreciate what she and Victor have to offer".
It's staff like Natalie that make it possible for VCSS to truly make a difference in the lives of those we touch.
Expanding to Help More People with Mental Health Care
Prior to us beginning services in Redding, children were either not receiving timely services or not receiving these meetings all together.
We are proud to report that within the first year every youth in the child welfare system had received at least 1 CFT meeting and was up to date for state and county requirements. Due to our incredible staff and reputation, we have been able to grow our presence in Tehama County and now are serving the Transitional Age Youth for mental health services as well.
Mental Health is a key component in living a fulfilling life and too many people don't receive care because of stigma and lack of resources. It's our job and mission to be a catalyst for sustained improvement in the lives of those we touch. This month, we feel that mission's importance a little more.
If you want to improve the lives of others through mental health, foster, or family services please click the link below to see our current job openings.