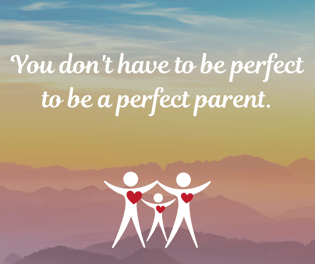 Any parent will tell you that they aren't perfect. Whether you have your own biological children or decide to foster or adopt, you will experience the many challenges of parenting and quickly realize there is no such thing as perfect. We all try to keep learning, and grow into the best parents that we can be, but none of us get it right 100% of the time.
For those considering fostering or adopting a child, there are a lot of questions and many concerns. Many people may not think they qualify to foster or adopt and don't feel ready. There are a surprising amount of misconceptions about what is required to be approved for foster care. You don't have to be rich, you don't have to be married, you don't have to own a home, you don't have to be "perfect" to help give a child a good home.
In an advertising campaign from AdoptUSKids they coined the phrase "You don't have to be perfect to be a perfect parent." It's a great message for people who have struggled with the idea of fostering or adopting but are worried they are not the perfect fit. If you have room in your home and in your heart, you can help a child in need.
AdoptUSKids used this message in a national ad campaign to raise awareness about the need for adoptive families willing to adopt teens from foster care. Many adoptive parents think only of adopting a baby, but in reality there are so many other opportunities to adopt older youth and teens from foster care. Teenage years are tough for anyone, but without parental figures the teen years are much more difficult to navigate. In their ad campaign they poke a little fun at the usual teenage stereotypes and show adoptive parents doing their best to navigate the situations. No parent is perfect, but they are exactly what these teens need.
AdoptUSKids is a national project to educate families about adoption and foster care, as well as to support child welfare professionals to improve their services. Their mission is to "Raise public awareness about the need for foster and adoptive families for children in the public child welfare system and to assist US states, territories, and tribes to recruit, engage, develop and support foster and adoptive families."
Taking the leap into becoming a foster or adoptive parent can be scary, but with the right information and support you can feel much more confident that you're making the right choice. Have questions? Give us a call or click below and we'll be in touch!
You may not be perfect, but you might just be the perfect parent for a child or teen in need.