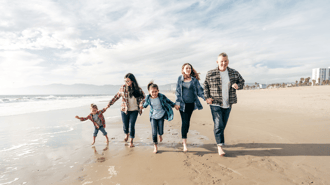 Becoming a foster parent is a beautiful, personal, and serious decision. You are opening up both your home and life to a child who is experiencing a difficult time when they need a safe place to stay and people who can care for them. Because the work is with vulnerable populations of youth, there are important requirements for becoming a foster parent in California. Knowing them may help you decide if foster parenting is right for you and what your next steps are.
There are currently more foster children in the system than there are foster parents who are able to care for them. The requirements to become a foster parent in California are, for the most part, simple and straightforward in an easy-to-follow process. Furthermore, there are support systems in place to help you move through it smoothly and with as little confusion as possible. This process of becoming a foster parent can be referred to as getting approval.
At Victor FFA, we pride ourselves on supporting our resource families every step of the way throughout their foster journey; from initial research and trainings, to inspections, and through the ongoing years of being a foster parent.
Trainings and Orientations
Before you decide to become a foster parent, it's helpful to attend a foster care orientation or schedule a meeting with a licensed social worker at an agency or county office. There you can learn more about the process, receive educational materials and ask any questions you may still have about becoming a foster parent.
After you decide to begin the process, you will need to take a series of training courses about parenting, becoming trauma informed, and safety. There are both initial and ongoing trainings you'll be required to do as a foster parent. If you are co-parenting, both must attend the trainings.
REQUIRED TRAININGS
Initial:
20 hours for Basic Foster Care
40 hours for Intensive Services Foster Care (ISFC)
Adoption class
First Aid & CPR
Home visits
Continued Annually:
12 hours per year
Foster Care Social Worker provides trainings 1 hour a month
2 hours can be gained in monthly support groups
Community Kinship Classes
Events throughout the year
Intensive Services Foster Care 32 hours the first year
Paperwork and Background Checks
To become a foster parent, you must be at least 18 years of age, but typically more mature ages are preferred. The paperwork covers a background check, fingerprints, and other basic information. You will need to have proof of identity, which Victor FFA can help you navigate if this is something you're concerned about. You will also need to provide tax records, proof of income, immunizations proof for yourself and family, and vaccination proof for any pets.
As you will be a caretaker for children and teens, you will be required to participate in a background check. You cannot have any convictions for certain crimes or any record of child abuse or neglect.
Please know that you do not need a perfect record to become a foster parent. Everyone's goal is to make sure these children have a safe place to go. If you have any concerns, let your social worker know and they can work with you.
Household Requirements
Home
Referred to as the 'home study', this is the most involved portion of requirements. Overall, the home must be safe and in good condition. The social worker helping with your application process will get you the list of requirements ahead of time and work with you to make any necessary changes so your home is ready to foster.
Safety requirements include smoke and carbon monoxide detectors with new batteries, a first aid kit, any age-appropriate child proofing, locked windows and screens, guard rails, and any firearms locked away and separate from ammunitions. It is also important to have the ability to make any repairs on your home immediately when they are needed.
Remember you are welcoming a child into your home, so they need to have space for themselves. It's best if your foster child can have their own room, but if a room is large enough it's possible they can share.
Family and Partners
If you are married or a parent already, becoming a foster parent will involve your whole family. Even those outside your immediate family may need to help from time to time, therefore it's important that everyone be on the same page.
During the home study, the social worker will ask questions of you and your family about fostering. This is known as a family interview. These questions will help the social worker and agency get to know you along with determining what types of foster children would do well in your home.
Conduct and Care
The following may not be all black and white requirements, but they are best practices for having the healthiest possible relationship with your foster children.
Any financial assistance received for being a foster parent is to be used directly for your foster child. That includes clothes and shoe shopping, outings, as well as part of groceries. These funds can be used as a bonding moment with your foster child or teen as you go together to get them items they like and will make them feel special. You can also use the money to teach them good financial habits, like an allowance.
You become a part of a child's care team when you become a foster parent. That means working with others who are supporting your foster child. Be prepared to work with biological parents and other family members, social workers, and perhaps even school personnel, coaches, or other adults in your foster child's life. Your foster agency can help you with navigating these relationships and expectations and will cover some of it in your initial and ongoing training.
Steps to Become a Foster Parent
We don't put all of this out there to intimidate or scare you. In fact, we hope it will give you clarity of what it takes to meet the requirements of becoming a foster parent in California.
By being aware the requirements, you can make a more informed decision on if becoming a foster parent is right for you. We want to support you through the training and orientations, paperwork and background checks, home study, and finally parenting.
If you feel called to do this work, we want to help you! Learn more about becoming a foster parent by clicking the link below.