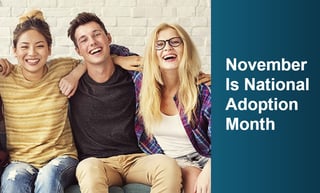 November is National Adoption Month, and this year's focus is on adopting teens and young adults from foster care. There is a huge need for adoptive parents willing to take youth who are at risk of aging out of the foster care system. Studies have shown that long-term success rates are much higher for teens who are adopted into families, before aging out of the system.
In a letter launching this year's National Adoption Month, Jerry Milner, Associate Commissioner at the Children's Bureau, lays out some statistics that highlight the great need for families willing to adopt teens from foster care.
2019 National Adoption Month Children's Bureau Message
Jerry Milner, Associate Commissioner at the Children's Bureau
This year, the Children's Bureau's National Adoption Month initiative—including its National Adoption Recruitment Campaign—focuses on the thousands of teenagers and young adults in foster care who still need a loving, permanent family and a place to call home. The number of children and youth in foster care continues to rise, reaching nearly 442,995 in September 2017. We also see an increase in the number of children waiting to be adopted. On September 30, 2017, the number of children and youth waiting for adoption was over 123,000. Of those children, 13,451 (11 percent) were between the ages of 15 and 17. Securing permanent connections for these young people—along with ensuring they have a broad safety net of supportive adults in their life—remains critically important and deserves our unwavering commitment.

For youth in foster care, adoption means that they belong and can feel connected to a family who will support them no matter what. This year's National Adoption Month campaign focuses on finding adoptive families for older youth and highlights the importance of empowering the voice of young people in conversations about permanency, planning for their future, and the value of relationships. Youth have ideas about what they want and need for their life and likely have questions and concerns they must discuss in order to move forward.
Key Facts and Statistics
There are over 123,000 children and youth waiting to be adopted who are at risk of aging out of foster care without permanent family connections. (AFCARS report)
Approximately one in five children in the U.S. foster care system waiting to be adopted are teens.
Only 5 percent of all children adopted in 2017 were 15 - 18 years old.
The risk of homelessness and human trafficking is increased for teenagers in foster care.
According to the most recent

AFCARS report, of the 123,000 children and youth waiting to be adopted:


52 percent are male
48 percent are female
22 percent are African American
22 percent are Hispanic
44 percent are white
The average age is eight years old
11 percent are between 15 and 17 years old
Average time in foster care is 31 months
What YOU Can Do to Help
Part of the problem with teen adoption from foster care is about perceptions. Many couples start off wanting to adopt a baby. The waiting list for adopting infants can be long and the process can be complicated. Teens are at a critical developmental stage in their lives where they are longing to connect with people and solidifying their idea of what family is. We challenge you to reconsider your definition of family and look into teen adoption from foster care.
Another common misconception is that children are in foster care because they got themselves into trouble. The truth is that children almost always end up in foster care for reasons beyond their control. They have experienced trauma and they need nurturing from stable adult role models. You can be the difference in these kids lives. So reach out to your local adoption agencies and get a little more information about adoption options. Most offer amazing support throughout the process and you might end up expanding your family sooner than you think.