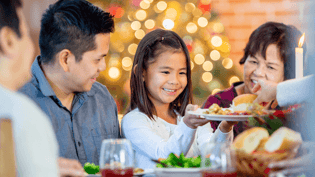 For those involved in foster care, the holiday season is a little complicated, but also full of hope. Foster families have children to take care of, which includes seasonal activities, shopping, and prepping for baking and meals. Nonprofits and other organizations support foster children during this time through charitable donations. Foster agencies operate no matter the holiday since the need for services doesn't stop for Christmas.
For foster children, it's hard to predict what this time of year will bring them.
They may have a new placement, or they could be celebrating the holiday with their biological family or their foster family. It could be their first holiday season in foster care, or they may have celebrated many. While there's a unique situation for each foster child, we know there are universal behaviors that can make them feel welcome, understood, and cared for even during a busy and hectic holiday season.
The Christmas That Changed Everything
Below we share an excerpt from a story written by a former foster care youth. Victor FFA was not this foster child's agency, and we believe the behavior of some of their past foster parents is unacceptable. Not all foster youth have this experience, but they can experience trauma which causes emotions that are strong and difficult to process. However, their testimony and experience are still valid and worthy of sharing.
This former foster child was courageous enough to share their own experiences with Christmas and foster care. They talk about many different aspects of what the season meant for them and the one caring foster parent who changed everything.
I Didn't Matter.
When you are a foster kid, your inner senses are kicked into overdrive. I remember one foster home couldn't wait to get rid of me. She packed my things, called my worker, and said my Christmas gift is being removed from her home. She wanted me out now because I "ruined everything" for her family.
Sometimes I would just stay in my room and cry, wondering how my life ended up in foster care. What did I do so bad to deserve this? I was alone with nothing. I was being punished for things I had no control over. I had to be part of a family that wasn't mine. They were foreign to me. It didn't help that I'm shy and reserved. It didn't help I couldn't just be myself with these strangers. Only one foster parent actually gave a damn.
Ms. Harris Changed it All.
Ms. Harris was my 24th foster home. She was the only one – I mean, THE ONLY ONE – who asked me directly what I would like to do for Christmas or if I celebrated Christmas. Even after I acted out, there was still Christmas in her home. She even called my mother and asked how to make the special Christmas pudding and Banuelos. She googled it too. Was it perfect? Nope. But it was mine. She tried. She went out of her way to get the ingredients and cook them for me.
She acknowledged Christmas might be hard for me and asked if I even wanted a tree. She asked if I wanted anything. I knew to say "no." The things I wanted were either too expensive in the eyes of foster parents and caseworkers, so I knew I wasn't getting them anyway. Or they would be taken away anyway, so why bother? Nobody cared what I wanted, and I knew my own family couldn't afford the things I wanted. It's still crazy to me that she didn't take my "no" for an answer.
You Fit the Kids, the Kids Don't Fit You.
Ms. Harris took me shopping and asked me to pick out the things I liked. Things that I wanted. I thought it was a joke. I knew the money she got for me didn't come in yet. She noticed the small things which even surprised me: nobody notices the small things that mattered to me.
Christmas with Ms. Harris wasn't Ms. Harris' Christmas. She wanted it to be MY Christmas. I had never had eggnog before, or cornbread dressing either. She made both from scratch and asked me if I wanted some. In my previous experiences, nobody asks you what you want when you are a foster kid. You just take it and fit yourself into the foster family. The foster family doesn't fit you.
Ms. Harris acknowledged and accepted how hard Christmas would be for me. Maybe it was due to her own background (she grew up poor too). Maybe it was her way of acknowledging "you fit the kids; the kids don't fit you."
[To read the full story click here]
What we can Learn from Ms. Harris
While the foster youth who shared their story has their own experience, we want to point out what made their Christmas with Ms. Harris better than their previous experiences.
She asked questions.
We advocate to include your foster child in choices concerning their care. Asking them questions about what they like and their interests helps build relationship, makes them feel heard, and shows they are cared for.
She incorporated her foster child's traditions.
Going above and beyond, she worked with her foster child's biological family and asked for help to include their traditions. Even though Ms. Harris' food wasn't perfect or the same, the effort meant more than anything else.
She gave opportunities for connection.
Ms. Harris still incorporated her own traditions in the holiday, and she offered to share them but didn't force the issue. It was an invitation that her foster child could accept if they wanted.
She kindly prioritized her foster child's needs.
Needing new clothes and being allowed to go on a shopping trip without the fear of items being taken away is a huge gift for some foster children. Ms. Harris didn't make her foster child feel bad about the situation they were in or belittle any caretakers before they came to her home. This helped her foster child focus on the good things happening and not get distracted by past experiences.
It's More than a House
When you open your home to a foster child, you are not only welcoming them into a physical building but also your life as a whole. This includes traditions, schedules, extracurricular activities, and anything else that defines your life and occupies your time. Holidays are one of the things in our society that are deeply personal and come with memories and emotional ties. They can also be a powerful tool for sharing hope and love to children who need it.
We encourage you to think about supporting foster children however you can this holiday season. And if Ms. Harris has inspired you to think about becoming a foster parent, we would love to speak with you. It's as easy as clicking the link below. Happy Holidays!