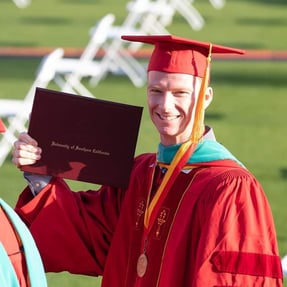 It's no secret that many foster children experience trauma and hardship. There are so many children in need of a stable and loving home, it could be easy to think, "Well how can I do anything to combat all that?" The truth is, by providing a safe home and loving home, you can change a child's world, and even an entire family's life.
Meet Mich Hamlin. Mich went from homelessness, to foster care, to graduating from University of Southern California with his doctorate in physical therapy. He hopes his story will be an inspiration to other foster children. We hope it can be an encouragement to foster parents as well.
Mich's Childhood
Up until middle school, Mich, along with his parents and two brothers, were homeless. They slept wherever they could, including parks and behind dumpster bins, though his family did have a car. His parents suffered from alcoholism and when his mother showed up drunk to pick him up from school, he and his siblings were placed into foster care.
The expectations in his first foster home were to go to school and make sure they ate. Mich remembered learning that other kids sleep in the same bed every night, a concept that was brand new to him. Two months after his first placement, he learned his mother had passed away due to drug use.
The pain Mich and his brothers felt was raw and extremely hard - all they could do was cry. The need for an outlet to work through his emotions and keep him focused prompted one of Mich's high school teachers to introduce him to track and field.
A Home with the Guirados
In March 2006, Mich and his brothers were placed with the Guirado family. Celedonia was the boy's primary caregiver, and she has always placed an emphasis on helping children live the most normal lives they possibly can.
She makes sure the children have opportunities to do things like camping, fishing, sports activities, skateboarding, etc. Perhaps most importantly to Mich, she also places a high emphasis on academics and works with the children to help them succeed in school.
"The home that we were at in Montclair, the foster parents were really adamant about keeping us on track with our education and keeping us athletic," Mich said in an ABC7 news interview.
The brothers were with the Guirado family for 5 years. As each brother turned 18 they emancipated, received support from Victor FFA, and successfully transitioned into adulthood.
Higher Education
Athletics became the common thread motivating and grounding Mich. After high school, he attended and ran track for Cal Poly Pomona. He graduated with honors and joined the 3% of foster children that graduate college. At that time, he just wanted to inspire other students who may be struggling themselves and eventually get his doctorate.
In May of 2021, Mich graduated from University of Southern California as a Doctor of Physical Therapy. It was important to Mich to stay fully focused on his education, so all through college, until he was 27 years old, Mich abstained from alcohol. He now hopes his story can be an inspiration to other foster children and to his patients.
"It's pretty astonishing to see the look on their face and the amount of respect that they carry for me and knowing that this kid went through a lot, but he's able to provide this amount of care for me," he said in an ABC 7 news interview.
Foster Family Makes a Difference
Mich's success and bright future would not have been possible without a caring foster family. His foster parents, the Guirados, have been foster parents for 21 years.
"The home that we were at in Montclair, the foster parents were really adamant about keeping us on track with our education and keeping us athletic," Mich said.
We know that support for activities and education came mainly from Celedonia who is passionate about giving the foster children in her care as normal of a life as possible and helping them succeed academically.
Throughout her almost 22 years as a foster parent through Victor FFA she has fostered 94 children. She has fostered both boys and girls, but for many years has worked primarily with teenage boys.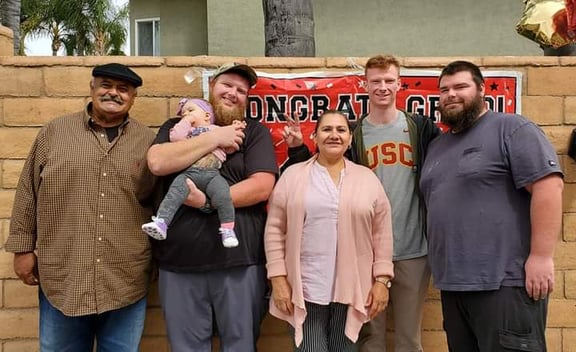 What it Takes to be a Foster Parent
The Guirado family and Mich's story can seem like one in a million, and it's true that Mich has put in a lot of hard work to reach his achievement, but his foundation at home played a large role in his success. But what makes a good foster home that can lift children from homelessness and through higher education?
It doesn't take a lot of money, or a fancy home, or the "best" of everything. Mich's story is a perfect example of that. Outside of his foster family, he had engaged teachers and coaches who introduced him to positive outlets to help work through his trauma and anger.
The Guirado household was a foundation that allowed Mich and his brothers to succeed in school, give them a creative and emotional outlet, food on the table and a roof over their heads. Their foster parents provided what the kids needed to soar.
Do You Want to Help a Foster Child?
We understand that looking into the foster care system and participating appears intimidating. Parenting is a big decision, even as a foster parent. But once you make the choice, we hope you find it one of the most rewarding things you can devote your time and energy to.
At Victor FFA we come along side you to support you in every way you may need. We can help with getting your house ready for fostering. We have trainings and staff ready to prepare you and answer your many questions. There is a network of other foster parents who want to be a resource and walk with you through your journeys. All you need to bring is a heart ready to learn and love.