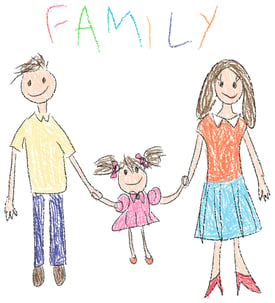 When most people think of adoption, they think of the adoption of a newborn baby. While that represents some portion of the adoption spectrum, the reality is that there are more opportunities to adopt or foster older children. Many potential adoptive parents start off with an adoption only mindset, but there are other ways to go about adopting that you may not know about. We are going to focus on the Foster-to-Adopt option and some of the benefits of that method.
Is Foster-to-Adopt Right for You?
Any kind of adoption can be a long and complicated process. There are some major advantages to adopting from foster care, and some important considerations.
Cost – Private adoption is typically quite expensive. By comparison, adopting from foster care is much less of a financial burden. There are subsidies and financial support that go along with fostering as well, which can help with the expense of the overall process.

Agency Support – The child welfare system can be slow and complicated to deal with. Linking up with an agency, like Victor, gives you a support team that walks you through the process and is available to answer questions along the way.

Adoption Priority - Getting set up for both adoption and foster care is often referred to as being "dual licensed". Many states actually give priority to families that are dual licensed, some states even require it. You will get the benefit of the training required for both fostering and adopting. This gives you the tools to work with children at a variety of ages and development levels who may have experienced trauma.

Trauma – Most children in the foster care system will have experienced some amount of trauma. That's why specific training is required to become a foster parent. Some people may not be willing or prepared to deal with the mental and emotional toll this can take on a foster parent. Read up on the subject and meet with an agency to get an idea of what you'll have to prepare for.

Reunification First – The primary goal of foster care is always reunification first. When possible, we believe the best place for a child is back with their family, if that family can fix the issues that caused the child to be removed in the first place. As a foster parent with the goal of adoption, you have to be prepared to love a child that you may eventually have to let go.

If you're curious about the Foster-to-Adopt experience we provide here at Victor, check out the video below. Peter and his wife Jill are a Foster-to-Adopt resource family that have experienced the joy of bringing children into their home.
3 Myths About Adopting from Foster Care
Single people can't foster or adopt - FALSE!
We talk to single people all the time who thought that they were ineligible to foster or adopt. You do not have to have a partner to be eligible to become a foster parent or to adopt.

Biological parents will try to take an adopted child back – FALSE!
In foster care our priority is reunification first. HOWEVER, once a foster child has been legally adopted, the birth parents have no legal recourse to take the child back. It's up to you if you would like to maintain any contact with the biological family.

Foster children are "problem kids" – FALSE!
Kids end up in foster care for a variety of reasons, none of which are that they are a "bad kid". This is perhaps one of the most dangerous misconceptions about children in foster care. They have experienced trauma and need the support of a willing mentor to heal and grow.
Find Out More
If you are interested in adoption, please look into foster-to-adopt options with your local agency. If you would like to hear from more of our resource families to find out about their experience fostering and adopting with Victor click here. If you're ready to get started, contact us here.